So you've probably heard about lash extensions, perms, and lifts, but have you ever considered a lash tattoo? All of the mentioned procedures have become popular recently, with lash extensions taking the cake, but today we'll talk about the pros and cons of permanent eyeliner.
As you may imagine, a lash tattoo, also known as permanent eyeliner, is a procedure done to enhance your lash line. This technique can provide the illusion of fuller, darker lashes and highlight your eyes. So if this is something you would be interested in (who wouldn't?), you are in the right place.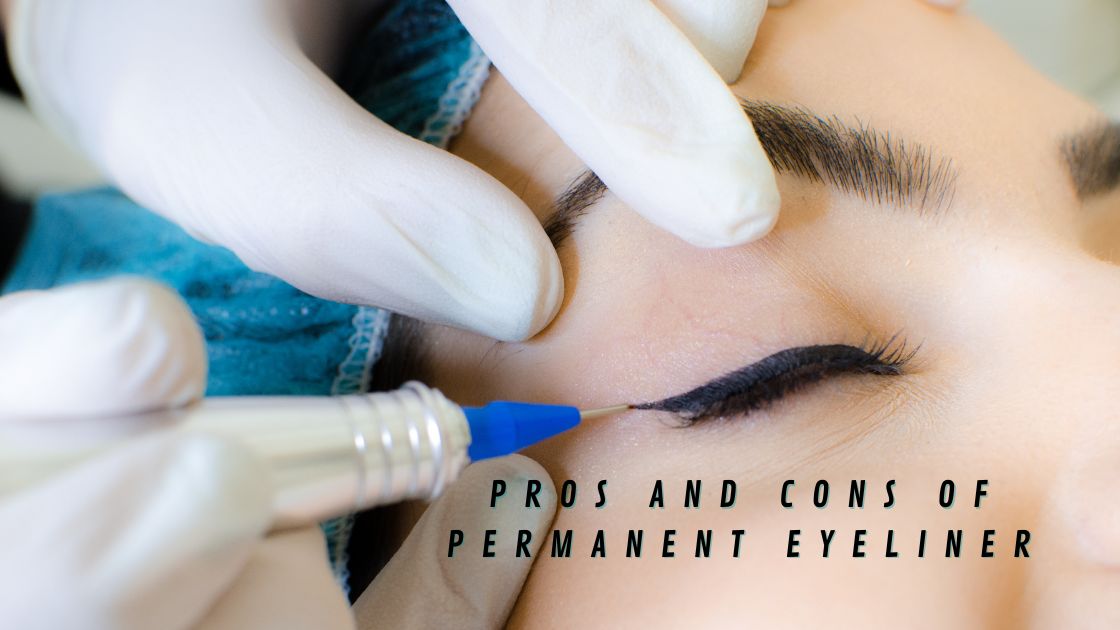 Permanent eyeliner offers several benefits, among them you'll find that your eyes will really pop, in addition, you can forget about the need to invest in liquid liners or pencils, and the best of all and a personal favorite, you'll save a ton of time while doing your makeup routine, so you can quickly be out the door and looking your best.
As you can tell by now, this semi-permanent procedure is a good idea if you enjoy a dramatic look and want to cut on your makeup routine time. But, like with any procedure, there are other factors to consider. So, is permanent eyeliner for you? Find out as we tell you more about the pros and cons of permanent eyeliner.
Permanent Eyeliner Intro
Basically, permanent eyeliner is an eyeliner tattoo. Instead of applying makeup day after day, you make it permanent.
The process works as with any other tattoo. You design your desired look, and the eyeliner artist tattoos it onto your face.
It differs from other tattoos in that it will fade after two to three years, so touch-ups are necessary for maintenance.
Permanent eyeliner can be tattooed in different styles and colors. It can even be removed as with other tattoos though this process can be long and even painful.
Pros And Cons Of Permanent Eyeliner
Pros
You'll Have Perfect Eyeliner 24/7
Drawing the perfect wing is easier on some days than on others. Inevitably, there are those mornings when you're in a rush and when your eyeliner simply will not do what you wish it to do.
You save both the application and removal time, which depending on your routine, can be significant.
No Need For Waterproof Makeup
Unless that eyeliner is waterproof, dark eyes are unavoidable. Permanent eyeliner solves this very real problem. You can spend all day at the beach going in and out of the ocean while maintaining a perfect cat-eye; speaking of cat eye, have you heard of Cat Eyelash Extensions?
You Take Your Pick
Permanent eyeliner can be done in different styles. You can select the perfect thickness and length of the line as well as the direction and style of the wing.
The customizability of the procedure makes it easy to find the right design for you. You can choose among four different eyeliner styles:
Eyelash enhancement: Super subtle eyelash enhancement is a very subtle tattoo application. It can be done in two different ways: a thin line that does not leave the lash area or as a dot next to each eyelash. This makes your eyelashes look longer and thicker.
Thin eyeliner: Subtle but impactful, thin eyeliner application can still make your eyes pop whilst keeping a more 'natural' look. It's a great option for those that want a thin eyeliner line, with the option of building it up further with makeup.
Medium-width eyeliner: Bold. A medium-width eyeliner is perfect for women who wear makeup every day and want a look that makes their eyes bold but still relatively natural.
Thick eyeliner: Super-Bold. Thick eyeliner is not for everyone; for those who wear thick makeup and eyeliner daily, this will give you a permanently bold eyeliner look.
You Can Choose The Eyeliner Color
You can choose from traditional colors of brown and black to more adventurous colors such as green, blue, and violet.
If you are considering a bold color, don't forget that you have to be happy with this eyeliner color every day for the next 1-2 years.
Permanent Iquals Semi-Permanent
How long it lasts depends on several factors, such as the place you have it done and the quality of the dye's impact on how long it will stay intact.
However, this is also influenced by your skin, how frequently and rigorously you wash your eyes, and the products you use on the tattooed area. On average, permanent eyeliner will last anywhere from two to three years.
Cons
Expensive
Well is not really a big surprise since all permanent makeup procedures aren't exactly cheap.
The price mostly depends upon the place you have the procedure done. On average, however, a permanent eyeliner appointment will cost you around $600 to $1000. It varies according to the line style you choose to have done.
Makeup Trends Change
Makeup styles tend to change with the times. Think back to eyeliner in the '60s, where the bigger your line was, the better. Then flash forward to the '90s when undereye liner came into fashion.
If you can commit to a certain style for at least three years, then you shouldn't let this stop you from getting your permanent eyeliner.
It May Hurt
We're not here to lie to you; getting a permanent eyeliner may hurt; after all, you are getting a tattoo on your lash, which, needless to say, is a sensitive area around your eyes.
On the other hand, they will always apply a numbing cream, making the process less uncomfortable and painless.
Removal Is Complicated And Long
Permanent eyeliner removal can't be done instantly or rushed at all. Depending on your option (laser, saline, or glycolic acid removal), you must go through up to 8 or 10 sessions for complete removal.
When you go through this removal process, make room for at least six weeks of recovery between them.
Pigments Can Vanish Or Leak Out
Occasionally, due to not-so-great methods and certain properties of the skin, such as large pores and oiliness, these pigments might "leak out." When they "leak out" of the actual outline, they blur the borders. This causes the skin of the eyelids to get so thin.
Permanent Eyeliner Procedure (Steps)
The technician will confirm the design and look you have previously agreed on
The procedure commences with your eye being cleaned with a cotton swab and makeup remover
A numbing cream is then applied to ensure a comfortable and pain-free procedure
Your technician will use gloves and magnifying eyeglasses for hygiene and accuracy
The technician will slowly inject the pigment with a tattooing needle into your skin. A digital tattoo machine and small gauge needles to create fine lines and shadowing is used by most expert tattooists.
Your technician will move back and forth over small sections of your lash line to make the pigment fix.
Permanent Eyeliner VS Eyeliner
If, for some reason, you are not ready to take the plunge with permanent eyeliner, no worries; there are still fantastic eyeliners out there that can give you amazing results.
What We Like
Liquid
Matte Finish
Smudge-Proof
Blinc Eyeliner forms a water-resistant layer of color that contours your eyes. Since Blinc is not a cosmetic paint like conventional eyeliners, it doesn't fade, smudge, run, or flake, even if you cry or rub your eyes.
Highly pigmented color, smudge-proof, fade-proof, run-proof, and smear-proof.
Draw a thin line along the upper lid. To remove, use lots of warm water and gentle pressure.
What Our Testers Say
While this is a little pricey for eyeliner, this is the only one I have used since I discovered it a year ago. The quality and smoothness ensure a consistent application every single time! I have used so many before where the products dry out too quality or become flaky or even clumpy after use or application.
---
What We Like
Semi Permanent
Thin Accurate Pen
24 Hour Lasting
Easily Removable
The long-lasting, strong color is very easy to apply. The color stays up to 24 hours and can be removed with the corrector or make-up remover.
The thick pen allows accurate shading. Very easy to apply, goes on well with good accuracy, and stays on for a long time.
What Our Testers Say
I like it. I got it this morning, and even after playing in the sprinkler, it's still on and was the easiest eyeliner I've ever put on. For the price and only taking a few days to get here. It was totally worth it to me. I will deff buy it again.
---
Common Questions About Permanent Eyeliner
What are the main pros and cons of permanent eyeliner?
When talking about the pros and cons of permanent eyeliner, a few stand out:
Permanent eyeliner enhances the eyes without using liquid liners and pencils, simply put, it will make your eyes pop.
The procedure also helps to improve the appearance of light-colored or missing lashes.
Reactions that have been reported include swelling, cracking, peeling, blistering, and scarring as well as the formation of granulomas in the areas of the eyes and lips.
In rare cases, the reported effects caused serious disfigurement, resulting in difficulty eating and talking.
If you are unsure about a permanent option, you should look at the best eyeliner for eyelash extensions.
How long does permanent eyeliner last?
Most colors last three to five years, although some may not fade for as long as ten years. Periodic touchups are recommended to maintain the desired look. You can also choose to change the colors of your permanent makeup.
How painful is permanent eyeliner?
A numbing cream is applied to the area before your eye tattoo procedure, making the whole process relatively painless.
Some people with sensitivity or a lower pain threshold may find the procedure mildly uncomfortable, but generally, most experience little or no pain.
Is there an age range for permanent eyeliner?
There is no age limit to permanent makeup. Its benefits are universal, and it's a lifesaver for anyone who wastes time reapplying makeup daily or has some insecurity they would like to fix.
Can permanent eyeliner be removed?
Yes, it can. However, while technologically and medically cosmetic eyeliner tattoos can be removed, it's not easy; it's uncomfortable and costly.
Sometimes the pigment is nearly impossible to remove. What's more, there's also a serious potential risk to your eyes and the skin surrounding your eyes if not done correctly.
When can I wear mascara after permanent eyeliner?
You should not wear mascara for the first five days after your procedure, so you should avoid using any makeup on your eyes and eyelashes. After five days, your eyes should have healed, and you can safely apply mascara again without risking irritation.
Why did my permanent eyeliner disappear?
This is due to oxidation of the pigment and the redness of the skin. After three to four days, the color will become lighter as the epidermis sloughs off and the skin heals over the pigment.
During this time, the color will seem to disappear as the skin is opaque during this healing time.
How should you prepare before getting permanent eyeliner?
You need to remove lash extensions at least one to two days, or ideally a week, before your procedure to give the lash extension glue time to disappear.
Stop taking aspirin, fish oil, and other 'natural' products that thin the blood for at least three days before your procedure.
Remove contact lenses before your procedure, and don't put them back in until any tenderness or redness has vanished.
Consult a doctor before your procedure if you are on any prescription medications.
Pros And Cons Of Permanent Eyeliner Video Tutorial
Products Mentioned In This Article
We Thought You Might Like