Are you obsessed with your new lash extensions, but your happiness was tainted after they lost their curls after a few days at home? We feel you! The problem is that most of us forget to care for fake lashes the right way properly. At this point, you probably start to wonder, can you curl eyelash extensions?
The answer is more complicated than a simple yes or no. First, you must understand that lash extensions can lose their curls because of natural wear and tear to heat and many other reasons. While they are supposed to remain gorgeous for a month at the very least, the truth is the moment you dread may come sooner than you think.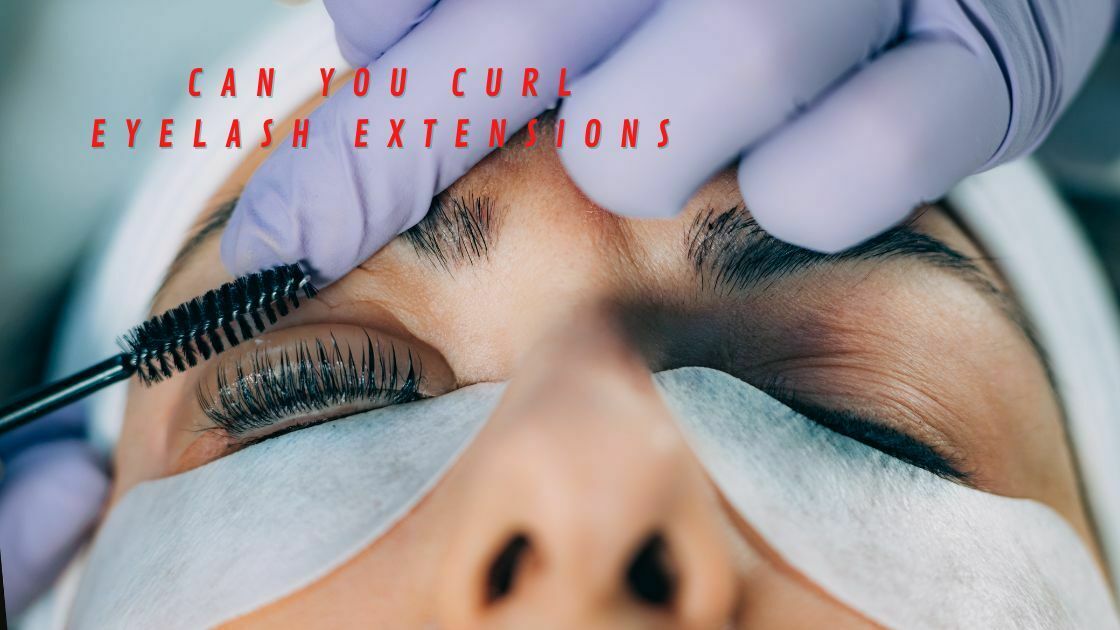 If you want your lash extensions to last, you need to give your lashes a chance to flourish; you need to provide them with a little bit of attention and a helping hand. This is why today we'll tell you how you can curl eyelash extensions the right way.
As you may imagine, experts advise against curling eyelash extensions; however, what you can do is curl the natural lash on which the extension is attached using a heated curler. If you still wonder, can you curl eyelash extensions? Please keep reading to find out everything you need to know, how to do it, and what you need.
Products Mentioned In This Article
Reasons you might ask can you curl eyelash extensions
When natural lash extensions like those made from real mink get wet, they often lose the preset curl and become straight.
Cooking over high heat on the stove, grill, and oven can de-curl your lash extensions or even singe them. This is because synthetic fake lashes are made from a thermoplastic fiber called PBT that loses its shape when overheated.
Avoid blow-drying the hair too close to extensions, especially in the hot air. Another thing is to avoid saunas for prolonged intervals too. Don't' rush in to open the microwave oven when you're' wearing lash extensions.
You can end up smooshing lash extensions from rough pillowcases (think cotton, polyester, linen) to poor sleeping postures.
When you fail to clean your lash extensions frequently, especially if you wear oil-based makeup, there are chances your false eyelashes may clump together with dirt, oil, and grime; thus making them lose their curls.
Traditional Lash Curler Vs. Heated Eyelash Curler
When it comes to curling your fake eyelashes, you have two tools that apparently can help you achieve the results you want, but only one of them is actually recommended by experts.
No matter how expensive and high-quality they are, the mechanical action used to curl the lashes when a traditional or automatic lash curler is employed is a bit too harsh, and there is always a risk that you might accidentally pull out some lashes or extensions.
Though a bit pricy, a heated eyelash curler should be the only method, you should use to curl your lashes since it won't cut them in half.
The heated eyelash curler is much more gentle on the extensions because there is no urgent action, no pressure, and no metal bits squeezing or pulling your lashes. A heated eyelash curler is usually plastic and looks slightly like a curved stick.
It heats up, and you brush your eyelashes from underneath like you would with a mascara wand. Hold it in place for a few seconds, and that's it, curled lashes gentler, which will help the curl last longer.
Can You Curl Eyelash Extensions Guide
Step 1 Apply lash extension primer.
Before applying for eyelash extensions, an eyelash primer is used to remove makeup residue, oil, and dust from the client's lashes. This pre-application cleaning procedure increases adhesion, retention times, and customer satisfaction.
We recommend Eyelash Extension Primer, designed to prep lashes before applying for extensions. It removes traces of body oils, residual makeup, and dust, thus making them perfectly clean to ensure a better hold of individual extensions to natural lashes.
The primer promotes a reliable bond, contributing to more extended extension wear and helping to prevent their early fallout. Increases eyelash extension adhesive power.
The bottle offers more value and will last longer, while a capped spray top adds to the comfort of use and provides a proper seal to retain product properties and prevent its evaporation.
Step 2 Use a disposable eyelash comb/brush
During application, the comb side of this device maintains lashes separated, preventing them from becoming clumpy. The brush side of the eyelash extensions could be utilized to increase their appearance and length.
We recommend ForPro Premium Mascara Applicators, which are made of high-quality materials for superior performance. This package is great for personal home use, travel, beauty salons, and other makeup occasions.
The mascara wand bristles are soft and gentle enough for separating eyelashes before and/or after straightforward mascara application.
These disposable mascara applicators feature flexible straight brush heads for easy application and can be disposed of after use.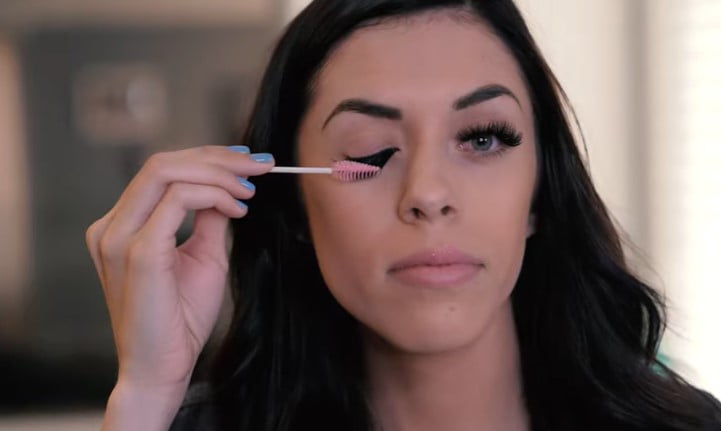 Step 3 Tweezers are your friend
Fine tweezers give you the control you need to apply each lash correctly. Because a semi-permanent eyelash is so tiny, it necessitates a tool that allows maximum control.
You can try Rev Pro Purple Tweezer, which has an illustrious finish with a lightweight feel & gentle touch on the wrist. This Angle shape neck tweezer is precisely hand calibrated for easy comfort for better visual performance.
The non-fade tweezer is used for 3d or 6d effects for any lash artist or technician's specialized handy tool.
This perfect surgical grade tweezer is excellent for any task fanning ultra-fine lashes from (0.05mm, to 0.18mm) Or just a simple lash application.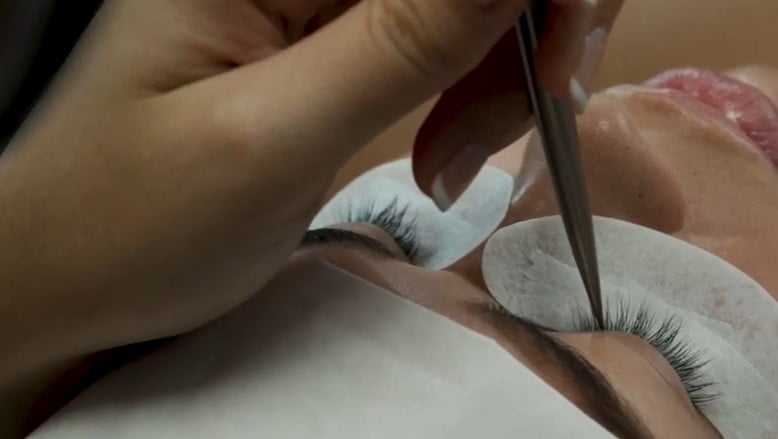 Step 4 Use a heated eyelash curler
If you must curl your extensions, choose the least harmful method to your lashes while being the most effective. That will be a heated eyelash curler in this case.
Grande Cosmetics LASH-LIFT Heated Lash Curler comes highly recommended. A rechargeable heated lash lift that applies just the right amount of heat to revitalize and lift lashes without any crimping, pinching, or lash loss.
It helps to curl your lashes without any crimping or pinching like traditional lash curlers.
Rest the curler near the lash base, pull upward, and hold for 10 seconds. Repeat as necessary.
How To Use Grande Cosmetics LASH-LIFT Heated Lash Curler
Clean and wash your lashes
Comb them so that eyelashes aren't' stuck together or clumped. Use a comb or lash wand to separate your lashes so there is no visible clumping.
Let your lashes dry. Allow lashes to completely dry on their own before curling (because wet lashes won't' retain the curl).
Turn on the lash curler. Once it's' warm enough (some devices will show an alert when ready), bring the lashes in contact with the heating area.
Begin the curling process. Make sure not to use the heated curler at the base of your lashes, where the extension is bonded to the natural lash. Instead, press your lashes to the curling pad and simultaneously brush them with your curling wand.
Lock the curl. Keep the heat applied for three to ten seconds to lock the curl in place. For the silicone-pad model, press the lashes onto the pad.
For the wand model, you should let eyelashes fall into the comb. Lift or twist the device based on the curls you want to create. Hold for three to ten seconds to lock in the curls.
Repeat. Continue until finished, and repeat thrice if you want a longer hold for curls.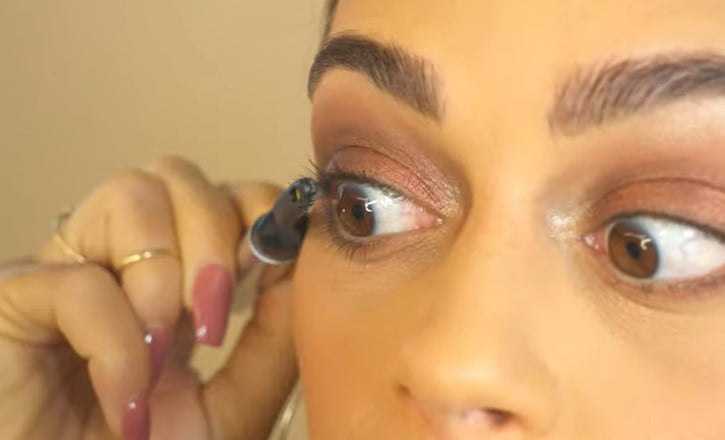 Step 5 Use eye gel pads
Eye gel pads might be used as a safety measure during the technical procedure. Clients may find cooling pads to be a source of comfort, as they could receive a pleasant eye treatment while receiving lash extensions.
You'll love Hydra-Gel Eye Patches; the revitalizing eye contour gel patches help visibly brighten the look of the eye area and improve signs of aging with THD Ascorbate, Vitamin C, Vitamin E, and Ferulic Acid.
THD Ascorbate Vitamin C helps reduce the look of darkness, fine lines, and wrinkles. Caffeine addresses puffiness.
Use the enclosed spatula to lift the gel patch. Apply onto a clean, dry under-eye area. Relax and enjoy for 10 to 15 minutes.
Step 6 Use a lash holder (Half-Moon)
The half-moon-shaped lash holder's curve effectively spreads a strip of extensions, speeds up application time, and is an excellent tool for creating volume extension fans.
Can You Curl Eyelash Extensions Alternative
Instead of trying to curl your eyelash extensions, it's' a much better idea to select extensions with stronger curls right from the very beginning.
"J" curl is curvy at the tip.
'B' curl is shapelier than 'J'.
"C" curl is an enhancement of the natural lash.
"CC" curl is between a C and a D.
'D' curl is curvier than CC.
"U" curl has the ultimate curliness.
"L" curl is generally used on naturally straight lashes.
"L+" curl is a combination of the lift and curve.
"M" curl moves straight and upwards.
It would help if you chose the right eyelashes according to your eye shape:
Almond eyes: It is the most common eye shape where you can try anything it looks good. Almond eyes can bear any length and thickness. So do not worry, put what you think is right.
Monolid: This eye shape requires thick lashes to give a unique look. To do the inner and outer corners, L-curls play an important role.
Wide-set eyes: You can use any curler with wide-set eyes. But the shorter in the corners and longer in the center creates an amazing look.
Closet set eyes: You can use two types of curls in it. One is D-curl, and the other is CC-curl. It will be amazing if you keep a longer length on the outer corner. D-curl is used for the lid, and CC- curl covers the outer corners.
Downturned eyes: They need a lot of corner lifts. It is the exact opposite of close-set eyes. You can use a CC curl for the eyelid and a D curl for the outer corners. These curls will make a great eye lift appearance.
Hooded or deep-set eyes: You can use C-curl on Deep Set eyes. They need a softer curl with longer-length eyelashes.
Prominent eyes: D curl is the only best option for prominent eyes.
Common Question About Curled Lash Extensions
Can you curl eyelash extensions?
You can't curl eyelash extensions, but you can curl the natural lash on which the extension is attached using a heated curler.
The only method you would want to employ if wondering if you can curl eyelash extensions is the use of an eyelash curler when wearing extensions to curl your natural lashes for them to contour the curl of your extensions.
That said, it can be done using a heated eyelash curler which is much more gentle on the extensions.
Is it OK to curl lash extensions?
The short answer is yes, as long as you curl at the base of your lash line. To curl eyelash extensions, use a special heated eyelash curler or mechanical curlers.
Is it safe to use an eyelash curler?
Eyelash extensions are created with a beautiful curl, but for those of you who want an extreme curl, we recommend using a heated eyelash curler, so yes, it is safe to use them.
What about an eyelash curler for natural lashes? or perhaps an Eyelash Curler For Men?
Can fake lashes be curled?
Some experts recommend never curling your false eyelashes, which creates a very unnatural-looking bend. Instead, start the whole process by curling your natural lashes and follow with one coat of mascara.
How do you fix droopy eyelash extensions?
Lube them up. You might think keeping your lash extensions dry is smart, but they actually stay nicer and longer when they're oiled up (this helps keep them flexible). Just rub a drop of baby oil on them with your fingers.
How does a heated eyelash curler work?
The tool is heated and shapes the lashes, and then when they cool off, the shape is "fixed" in place, just like with hot rollers or curling iron. That means this will hold the curl for much longer than just bending them with the mechanical eyelash curler.
Are there any downsides to using a heated eyelash curler?
If you do use a heated eyelash curler on eyelash extensions, make sure not to get too close to the root. Your extensions are fixed with glue, and this tool is hot, which may interfere with the glue.
Is a lash perm or lift a good idea on eyelash extensions?
A lash perm is a treatment you can get for your natural lashes; it's like perming your hair. Your natural lashes are curled using a special shape, and a chemical perming solution is used to fix them into place.
However, because of the chemical nature of this procedure, it is not a good idea to do this on eyelash extensions. They're not always made from human hair and are glued on, which does not play nicely with the chemical perming solution.
Do eyelash extensions ruin your eyelashes?
Eyelash extensions do not damage your eyelashes when they are correctly applied. To prevent damaging natural lashes, lash extensions should be carefully selected (length and thickness) and applied correctly to one natural eyelash at a time.
Why are my lashes so short after extensions?
Your false lashes will start to fall off, which creates opportunities to pick them off. If you've ever had your eyelash extensions grow out naturally, you might notice that your lashes look extra stubby and short; this is most likely because your lashes broke when the lash extension came off.
Are lash extensions worth it?
Lash extensions can be worth the money, but they're definitely not for everyone. It really comes down to your budget, time allotment, and compliance with the guidelines, as these aren't easy to maintain.
Should I curl lashes before falsies?
Using an eyelash curler is one of the best ways to blend your actual lashes with false lashes. Ensure your eyelashes are clean (no mascara or glue residue) before curling your lashes.
After that, you'll want to add some mascara, which will help blend your natural lashes with your falsies for a seamless look.
Some people are born with naturally curly lashes; you might think they are lucky, but not if they are extremely curly, then they would be interested in Eyelash Straightener; oh yeah, that is a fact!
Can You Curl Eyelash Extensions Video Tutorial
We Thought You Might Like