If you've been thinking about getting cat eyelash extensions, this is your sign to go for it. Investing in eyelash extensions has become increasingly popular, and there's a good reason for it. Though we tend to forget about our eyelashes, the truth is they have a huge impact on our overall look; this is why today we'll tell you all about cat eyelash extensions.
Giving your eyes the attention they need brings out your best features; needless to say, it will send your confidence through the roof. And what better way to style your eyes than by adding a pair of eyelash extensions? Eyelashes positively affect your personal style, and the cat-eye style has become a fan favorite.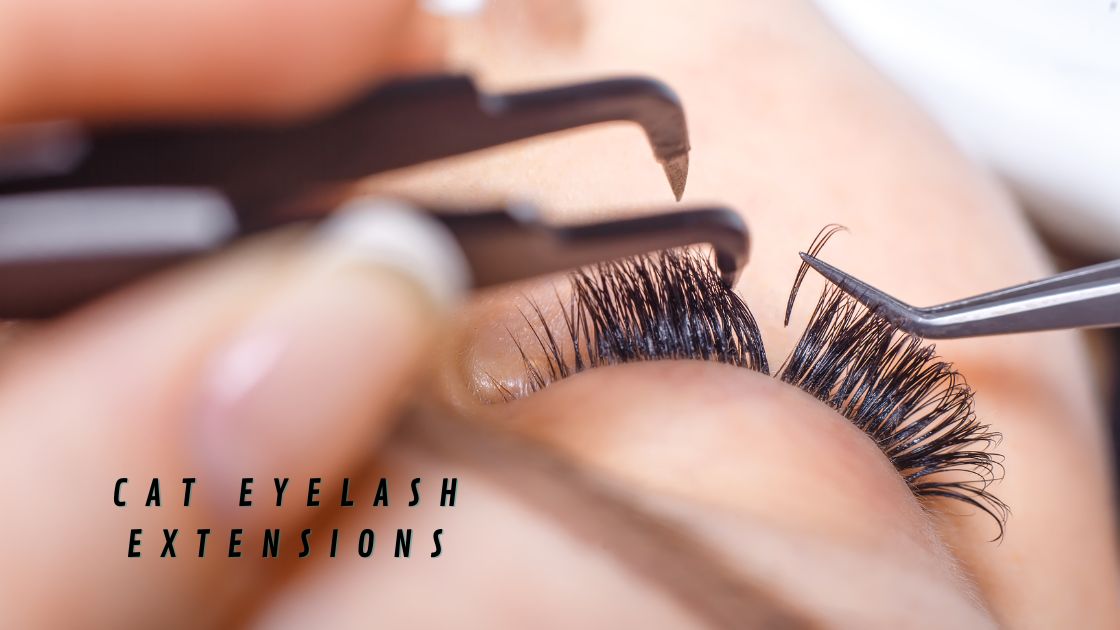 If you want to achieve a sultry and alluring look, the cat eyelash extensions are the right pairing for you. Once you try them, you can never go back. With cat eyelash extensions, you can ditch the eyeliner and have perfect lashes for weeks and, even better, natural ones.
As you can tell, cat eyelash extensions offer important benefits as they not only can create a natural lengthening to your eye shape but are also the answer for those who are losing their natural eyelashes. If this is your first time with cat eyelash extensions, keep reading, and we'll share with you what you need to know about the cat eye.
Cat Eyelash Extensions Intro
Cat eye is a specific eyelash extension style that uses longer extensions towards the outer corner of the eye and shorter ones in the inner corner. As a result, it creates a winged or feline-eye look.
Cat eye style features shorter lengths, gradually lengthening to long lashes on the corner of the eyes, miming the shape of a winged liner. Perfect for those with round eyes, the cat balances out the eye shape and creates a sultry look.
Cat Eyelash Extensions Vs. Doll Lashes
For a cat eye, the length of the lash extensions gradually increases from the inner corner toward the outer corner of the eye. This gives the eye a feline look.
Doll lashes are perfect for most eye shapes, except for deep-set eyes. They are long and likely will be longer than your natural lash, so they stand out more than cat eye lashes.
Doll lashes are perfect for those looking for a no-makeup makeup look which is great if you're on the go.
The easiest way to tell is the cat eye starts with short lashes on the inside corner of the lash band or eye and gets longer as they go outward to the outer corner.
While doll lashes have sorter lashes on the outside and inside corners of the lash band or eye.
Best Eye Shape For Cat Eyelash Extensions
Cat eyelash extensions are for you if you have: Find out what is your eye shape first.
Almond eyes: In conventional beauty, the almond eye shape is the most alluring and attractive. The description of this eye shape is in its name, shaped like an almond. The length is greater than the height, and there is a slight upward flick at the outer corners.
Choosing the cat eye style will emphasize the length of your eye and give a very alluring and mysterious look.
Round eyes: If you've been blessed with big eyes, they're probably your dominant feature. The round eye shape is characterized by having a height similar (or very close to the same) as the length.
The cat eyelash extensions will add length to your eye and help balance your eye more toward that desirable Almond shape while retaining the beauty of your round eyes.
Close-set eyes: This is an eye spacing category rather than an eye shape, and it's characterized by a gap between the eyes of less than one eye. The goal here would be to draw attention to the outer corner of the eye by adding longer lashes in that area in the style of the cat eye.
Single lid eyes: Single-lidded eyes have no visible crease, so that lash extensions can create a more open and larger eye shape. A cross between a Baby Doll for a natural look and a bit of cat eye to add extra length to the outer corners always looks great and accentuates that elongated eye shape making it even more appealing.
Downturned eyes: The aim will be to create volume on the upper outer corner of the eyes to help lift the eye. The downturned eye is perfect for the cat eyelash style, and as long as you have the natural lashes to support them, you can certainly pull off long extensions up to 14mm in that outer corner.
Cat Eyelash Extensions Techniques
The cat eyelash extensions style is not one size fits all. There are actually three main types of techniques that can be used.
Classic cat-eye lash extensions use one extension for every natural lash. This is the simplest and most natural-looking of the three styles.
Volume cat-eye lash extensions use 2-6 extensions for every natural lash. This is the fullest and most dramatic of the three styles. It is generally not a look you want to pull off for everyday wear.
Hybrid cat-eye lash extensions are a mix of classic and volume. This style creates "spikes" with the classic lashes and adds fluffiness to the volume of fans.
Cat Eyelash Extensions Steps
Step 1 Curl Eyelashes
Start with cleansed skin, and apply eye pads to the lower eyelid so the lids don't stick together. To avoid clumping, you must curl your eyelashes and apply mascara before adding the false lash strip.
Step 2 Apply lashes
Apply for the cat eyelash extensions; you'll need a lash adhesive and a tweezer. For cat eyes, the shortest extensions are glued to the lashes at the inner corner of the eye. The lengths of the eyelash extensions get closer to the outer corner, then sharply decrease at the outermost corner.
We recommend KISS Strip Eyelash Adhesive. Secure lash extensions with ease; this special adhesive delivers strong, secure hold and works with every length of eyelash extensions.
The strip lash adhesive with aloe is hypoallergenic, odorless, latex and formaldehyde-free, and dries clear for invisible, effortless wear. It's also waterproof, contact lens friendly, and cruelty-free.
Soothing aloe nurtures your lash line as it locks lashes in place, holding firm no matter how much mascara you apply or how long you wear your lash extensions.
How to use KISS Strip Eyelash Adhesive:
Check the fit; lay lash on top of your natural lash. Trim if needed.
Apply KISS adhesive to the lash band; wait 30 seconds for the adhesive to become slightly clear and tacky.
Apply lashes along the natural lash line.
Hold, allowing the adhesive to dry completely.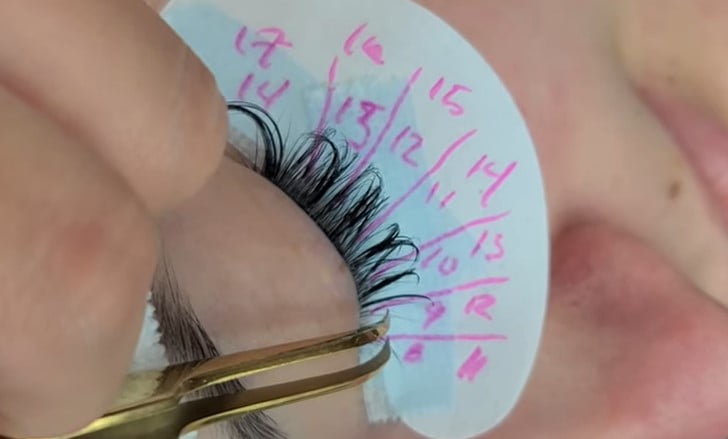 Step 3 Reduce the size
Lashes are applied in a cat-eye fashion by cutting them to fit the outer corners of the eyes.
Once the lashes have been applied, they can be cut down to size. While applying lashes may take a bit of practice, achieving the desired look is worth it.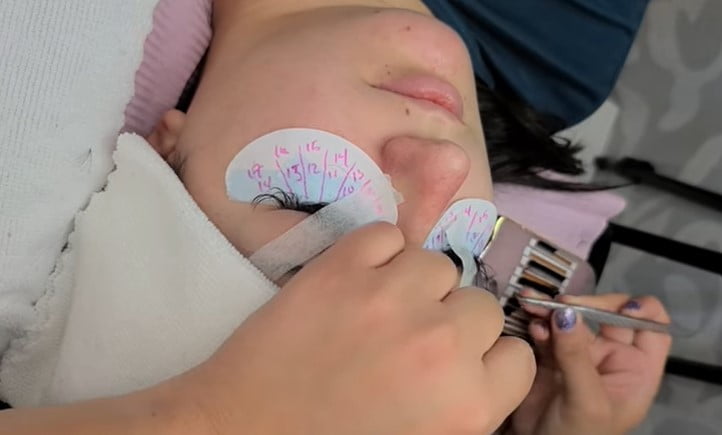 Step 4 Finishing
Remove the pads, make final adjustments, and comb through the lashes using a spoolie.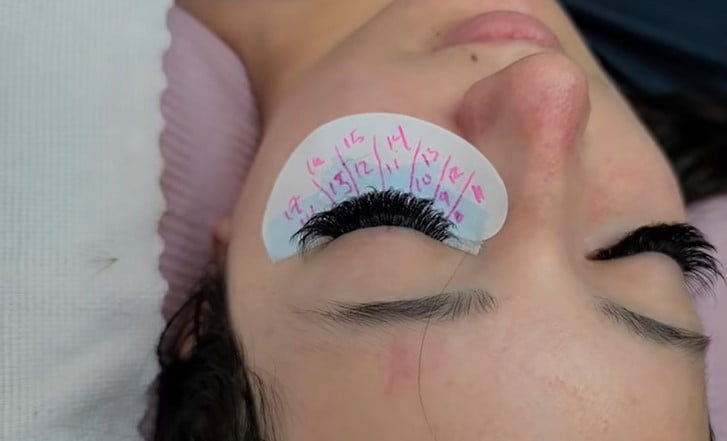 Top Rated Cat Eyelash Extensions
Ardell DuraLash Flare Short Black Fashion lashes look so real, so natural that others think you were born with beautiful lush eyelashes. Made of 100 % sterilized human hair, each lash strip is knotted and feathered by hand to achieve the highest quality.
The ARDELL Individual Lashes help you create your own customized lash look, blending in with your natural lashes; the lashes are applied individually, helping you to create your own customized lash look. Suitable for a variety of eye shapes.
ARDELL lashes earned its title as one of the most widely recognized names in faux lashes by catering not only to women looking to enhance their beauty but also to legions of beauty professionals and Hollywood makeup artists.
How to use Ardell DuraLash Lashes:
Thoroughly clean your eyelashes and eyelids so they are make-up and oil-free.
Pour a few drops of LashTite adhesive on a piece of foil.
Gently lift a DuraLash from the tray with tweezers and dip the end into adhesive.
Starting at the center of the eyelid, apply lashes one at a time by placing the lash cluster on top of one of your own natural lashes with the end close to, but not touching, your eyelid.
Support lash gently with fingertips until adhesive sets. Work towards the outer corner.
These will make your eyes pop by adding length and volume. It adds a glamorous touch to your look. Comes in soft, natural, defined hairs.
Combination packs make for the ultimate customized look. Gives truly invisible lash placement. The soft, natural, defined hairs enable you to precisely add definition and depth to your eyes.
Gently peel off lashes, starting at the outer corner of your eye. Remove the dried adhesive with a pair of tweezers. Lay the lashes on a tissue and use a Q-tip dipped in makeup remover to rub the lashes from root to tip until they are completely clean.
How to use Kiss Envy Ultra Black Flare Long Lashes:
Lay eyelashes on top of your natural lashes and trim if needed.
Give your glue enough time to become tacky before applying lashes.
Wait 30-60 seconds for optimal results and hold lashes in place when applying, allowing the adhesive to dry completely.
Elegant Lashes Trio Flares are the newest innovation in individual lashes! 3x faster and easier than regular individual flare lashes.
Trio Flares are three professional-use, premium-quality individual flare lashes conveniently tied to a single mini band for quick and easy, effortless application. Easy application makes Trio Flares ideal for beginners and busy professionals.
What Users say:
I have worn lashes every single day for over five years. I have tried EVERY kind out there; these are by far the best.
Common Question About Cat Eyelash Extensions
What is good about cat eyelash extensions?
Cat eyelash extensions feature shorter lengths, gradually lengthening to long lashes on the corner of the eyes, miming the shape of winged eyeliner.
Cat-eye lash styling creates an elegant lift and an elongated effect on the eyes and even makes the client's face look slimmer.
Who should get cat eyelash extensions?
The long wispy, and cat eye set is perfect for people with downturned eyes as these styles help lift the eyes, creating a dramatic look. You can easily pull off extensions up to 14mm long in that outer corner if you have the long lashes to support them.
What size cat eyelash extensions should you get?
The length of cat eye lashes depends on the user's natural eyelashes. They can vary from 6 mm to 14 mm. The most preferred lengths are 8-14 mm.
What is a lash map?
A lash map is simply an eye drawing that indicates where each type and length of extension should go.
How to do a cat eye lash map?
Divide the total area of the lash line into 4 to 6 parts sections using dotted lines.
Pick 7 to 8 different lengths of lash extensions. This is typically between 8 to 15 mm lengths based on different lengths of natural lashes per section.
Start from the inner corner of the eye to the middle with shorter lengths.
Move to the middle portion of the eye towards the outer corner with longer lengths.
How to care for cat eyelash extensions?
Do not get lashes wet for 48 hours, as the adhesive needs 48 hours to cure.
Don't use mascara as that causes unnecessary manipulation to the eye area, causing premature fall out of both the extensions.
Lash health should be a top priority when getting lash extensions, as the foundation of your lashes improves the hold of your lashes.
Use a lash serum because, for lashes to last, a strong base is needed not to damage your natural lash.
Conditioning serums are great for lash wearers to use in between appointments to keep them looking their best.
Cat Eyelash Extensions Video Tutorial
Products Mentioned In This Article
We Thought You Might Like