When you love everything about eyelash extensions but the only thing stopping you from your lash extension dream is the nasty chemicals in lash glue, it makes all the sense in the world to wonder about homemade eyelash glue; does it exist, is it even possible, can you pull it off?
If you are the type that likes to do some research before putting anything on your body, then if you've been looking into fake lashes, you are aware that most eyelash glues usually either contain latex or parabens; it smells terrible, it doesn't fix the eyelashes properly, and these might even cause allergic reactions irritating your eyes, etc.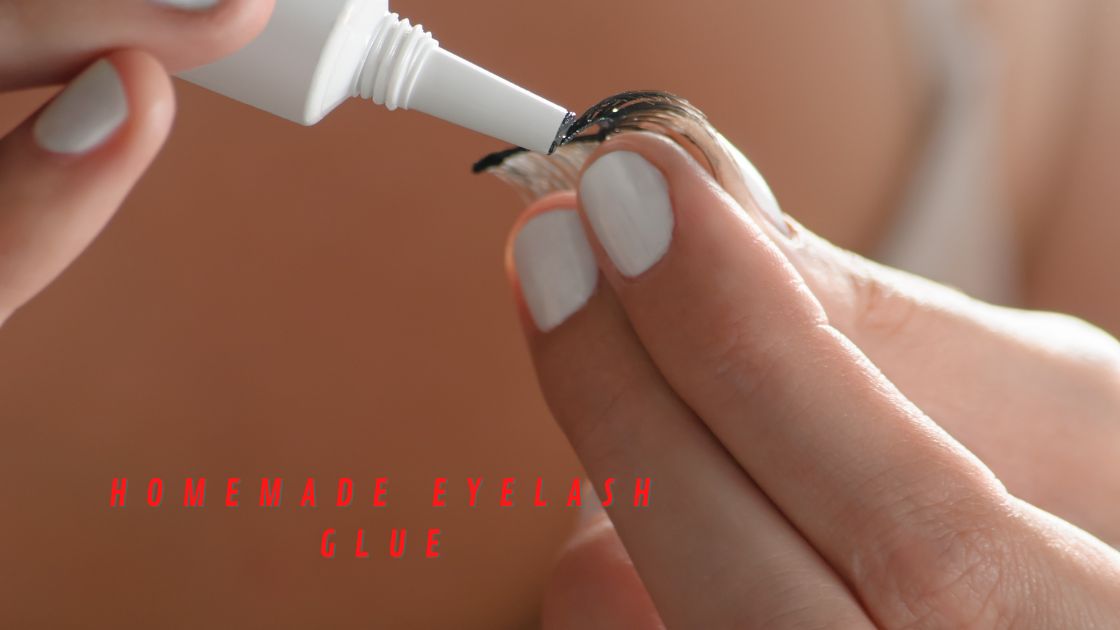 Knowing how to make eyelash glue at home is a safe way for you to experiment with eyelash extensions for the first time. It is also a great natural alternative to fix your lashes when experimenting with some issues requiring a little touch-up.
As you may imagine, the market is flooded with lash glue; however, if you can't find one that suits you, and if you enjoy DIYs and getting your hands dirty, making homemade eyelash glue might just be the thing for you. Continue reading and find out what you need and the right steps to achieve the best homemade eyelash glue.
Products Mentioned In This Article
Homemade Eyelash Glue Intro
Advantages
You know exactly what ingredients go in it, so you can make sure none of them irritate your eyes. This really helps in case you ever run into an eyelash glue-in eye problem.
You don't need to spend much. Homemade eyelash glue it's cheaper than retail lash glue, and you don't have to leave your house to get it.
Disadvantages
DIY lash glue can be downright dangerous because of how sensitive eyes are, and this not being a tested product.
The end result may be less effective than the dedicated lash glue you purchase in-store.
Since there are no artificial preservatives in DIY lash glue, it will not be fresh forever. This means you will need to make it fresh whenever you use it.
Homemade Eyelash Glue Recipe #1
Ingredients
1 drop of honey
2 Tbsp water
½ tsp sugar
1 drop of non-toxic glue
Step 1 Mix Ingredients
You'll need a mixing cup for this and just 5 minutes of your time. It's very simple: mix all the ingredients in your cup until everything is dissolved, and you're left with a homogenous paste.
No products found.
In the mixture, you can use Extra Powerful Eyelash Extension Glue; it not only maximizes the bonding strength but also helps to keep the fume low and non-irritative.
Developed for Professional Lash Artists to bond lash instantly, the eyelash extension glue dries in 1-2 seconds. The glue lasts up to 2 months; you will love it and keep coming back.
This lash extension glue is the best choice for clients with higher sensitivity to lash adhesives and lashing procedures and for both beginner and advanced professional lash extension stylists.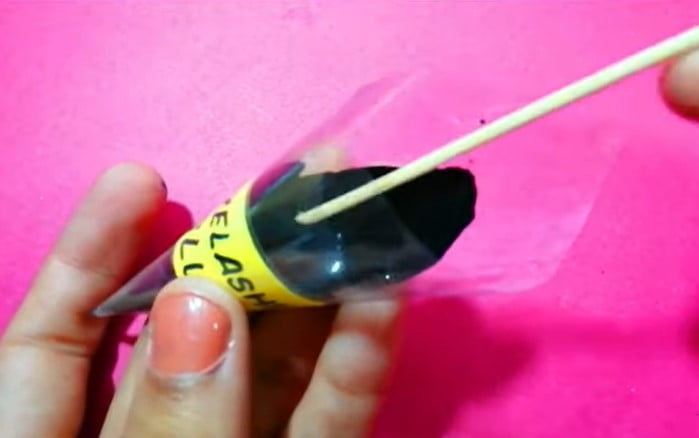 Step 2 Apply to lashes
Once you've got your paste, you can apply it to your false lashes like you normally would with any other type of glue.
Use a small spatula or a cotton bud for extra precision, and make sure it's sufficiently sticky before applying your lashes, to minimize unwanted movement and adjustment of the lash.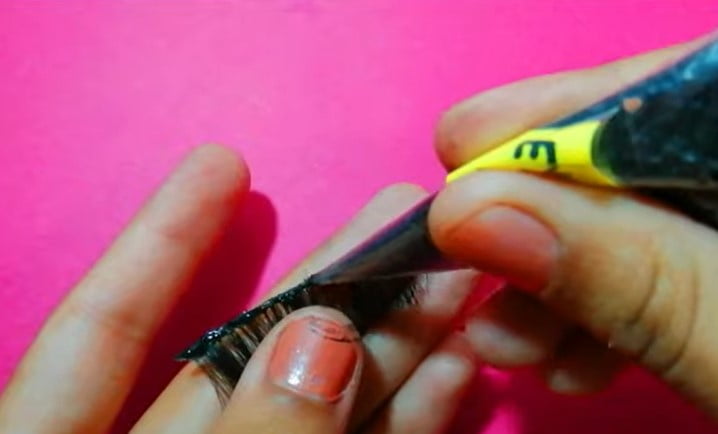 Homemade Eyelash Glue Recipe #2
Ingredients:
Water
1 teaspoon of Vaseline
1-2 capsules of vitamin E oil
A concealer brush or mascara wand for application.
Step 1 Mix ingredients
Mix well with the water and Vaseline in a small bowl or mixing cup.
Add the vitamin E oil and mix well again. You'll want to combine the mixture until it becomes sticky and syrupy.
No products found.
This classic Vaseline Petroleum Jelly is the Dermatologist recommended pure petroleum jelly.
Vaseline Jelly is the original skin protectant; it has been used to protect, help heal, and lock in moisture for dry skin since 1870. To this day, it effectively cares for your skin.
Vaseline Petroleum Jelly Original is triple-purified and hypoallergenic and is the ideal product for many uses, including sensitive skin.
Its triple-purification seal guarantees each jar of Vaseline Jelly has been purified not once but three times to remove impurities.
No products found.
For your vitamin E, you can try Nature Made Vitamin E, which is an antioxidant that helps neutralize free radicals in the body and supports a healthy immune system.
This antioxidant supplement is the dl-Alpha form of Vitamin E, which supports the body's natural immune defenses.
Sourced from high-quality ingredients, these Nature Made Vitamin E 400 IU soft gels are gluten-free and contain no added color, artificial flavors, or added preservatives.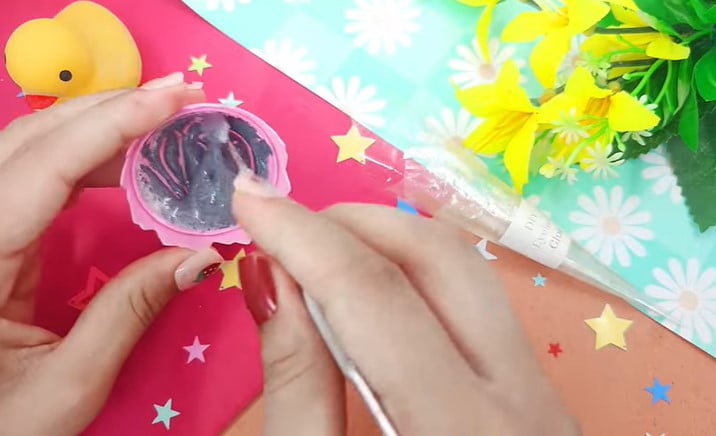 Step 2 Apply to lashes
Use the brush or wand to apply the glue to your lashes as you would with any other lash adhesive.
No products found.
We recommend Tweezerman Shaping Spiral Brow & Lash Brush, just hold the brush parallel to the lash line and brush upward and outward to define lashes.
Spoolie is densely packed to brush eyebrows into place with or without product use. Brush defines and separates lashes with or without the use of mascara.
Great for use after false lashes application to blend in natural and false lashes for a seamless appearance.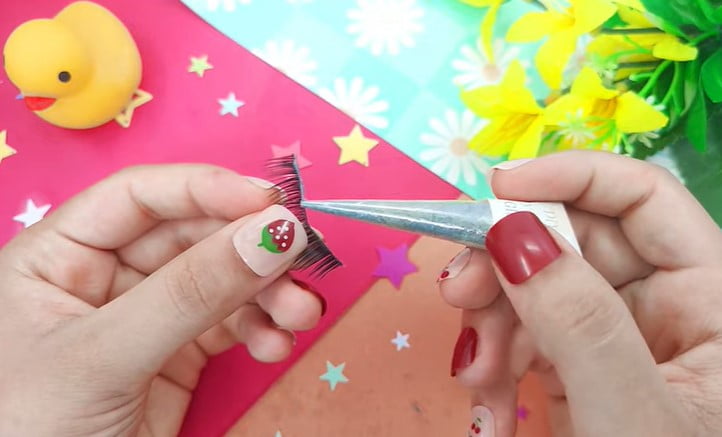 Step 3 Let it dry
Let the glue dry for a few minutes before applying your fake lashes.
Step 4 Finishing
Clean any residual glue from unwanted areas using a cotton bud, Q-tip, and a mild cleanser. And that's it. Your false lashes should now be secured using your homemade lash glue and look fantastic.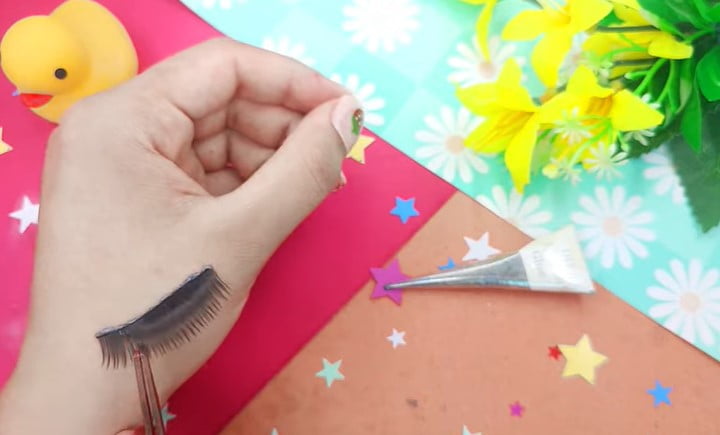 Common Question About Homemade Eyelash Glue
Does homemade eyelash glue really work?
If you're in a crunch for time and can't head to the store for a new bottle of lash glue, then a homemade eyelash glue recipe is definitely worth a try.
Homemade eyelash glue is also a good idea when looking for a more natural way to keep your lashes in place. This way, you'll ensure a non-toxic method for applying your false lashes.
Are there any other alternatives to DIY lash glue?
Yes! There are alternatives, such as self-adhesive falsies or magnetic falsies, so if you're bothered about eyelash glues on the market or homemade eyelash glue doesn't cut it for you, you can even avoid it altogether.
Adhesive strips are an easy way to keep your lashes in place. Just pop them on and let the strips do all of the work. Adhesive strips aren't always a long-lasting solution for keeping your lashes in place.
Self-adhesive eyelashes are another popular option. These lashes come with a small strip of adhesive already attached to the lash band. All you need to do is apply them to your lash line and let the glue dry.
Lash growth serums typically contain natural ingredients like oils and vitamins, making them a great option for those with sensitive eyes or allergies. These serums can create fuller-looking lashes so that you don't have to rely on falsies.
Lash growth-enhancing masks are another option to consider if you want something to keep your lashes looking full and healthy. As with lash serums, however, you'll need a separate lash adhesive if you want your lashes to stay in place.
Magnetic eyelashes are a great alternative option to eyelash adhesives, as they don't use the standard lash glue that most eyelashes need. It's fairly easy to apply magnetic eyelashes, and they don't leave a sticky residue like latex glue often does.
Lower Eyelashes application can be quite tricky; check out our guide on the best Lower Lash Extension of 2022.
Can mascara be used as eyelash glue?
Mascara is not a great option for eyelash glue. It typically only stays put for a few hours at most, and it can be very messy to apply.
Can nail glue be used for eyelashes?
Nail glue is not a good option for eyelashes. It's very strong and can be very difficult to remove, which can damage your lashes.
Nail glue also contains some harsh chemicals and dangerous ingredients that can irritate and even damage your eyes.
Can I use super glue for fake eyelashes?
This is a huge No. You should absolutely never use super glue for fake lashes. Not only is it incredibly difficult to remove, but super glue can also damage your skin and cause serious eye irritation.
How to store homemade eyelash glue?
Just be sure to store your fresh homemade eyelash glue in a cool, dry place when you're not using it so that it doesn't spoil. Leaving your homemade glue out in the open will cause the mixture to turn into a crusty paste that will be difficult to use and may cause eye irritation.
In case of an allergic reaction, discontinue use immediately and consult your doctor.
Homemade Eyelash Glue Video Tutorial
We Thought You Might Like