If you are a guy dreaming about defined and beautifully curled lashes without needing extensions, then you need an eyelash curler for men. Let's face it, men generally do not have the patience to do a full lash routine, so the best eyelash curler for men is using a heated eyelash curler.
Heated eyelash curlers are a fantastic way to curl your eyelashes that is quick, easy, and doesn't require any products. It's pretty much a fast and straightforward method that allows guys to get beautifully curled lashes without the need to employ all these other products that most women do.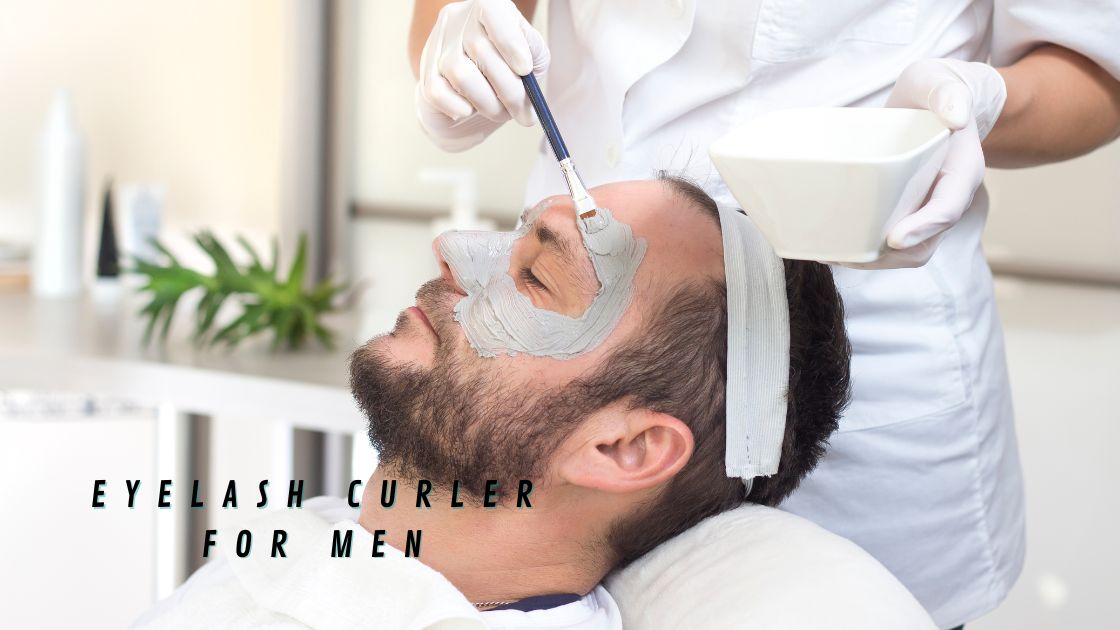 It's clear that a heated eyelash curler is the best eyelash curler for men; these innovative tools use heat to curl your lashes and are a convenient way to achieve long-lasting results, because of the heat from the barrel helps to set the lash in place.
As you can tell by now, there are numerous benefits to using a heated eyelash curler, and in addition, it is the best and easiest when duds can also achieve pretty curled eyelashes. So, if you wish to know more about the best eyelash curler for men, stick around and learn how to use this cool tool and more interesting tips.
Eyelash Curler For Men Benefits
Heated eyelash curlers are ideal for creating a more defined lift and prolonging a curl, especially for people who can't seem to hold one.
One benefit is that they are quick and easy to use, making them ideal as the best eyelash curler for men. Another benefit is that they can be used on both natural and artificial lashes.
Heated eyelash curlers also have the advantage of being able to hold a curl for a long period of time. This is because the barrel's heat helps set the lash in place.
Heated eyelash curlers come in various shapes and sizes, so you can choose one that best suits your needs.
How To Use An Eyelash Curler For Men
Step 1: Start with clean, dry lashes
Wet or damp lashes will not sustain the curl and will make them fall back to their original shape.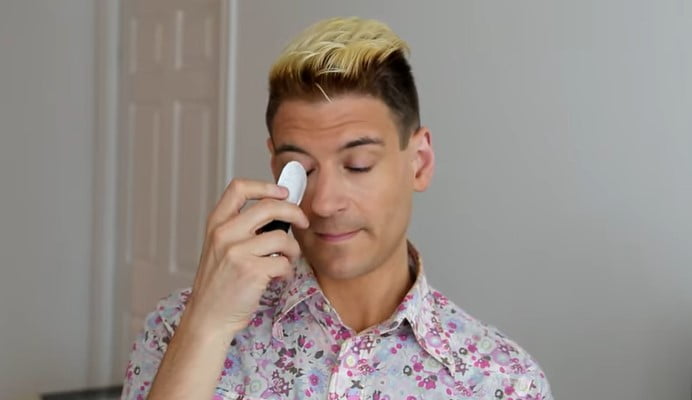 Step 2: Place curler at the base of the lashes
Then, gently place the curler at the base of your upper lashes and press down for a few seconds. Hold the curler in place for 10-15 seconds for best results.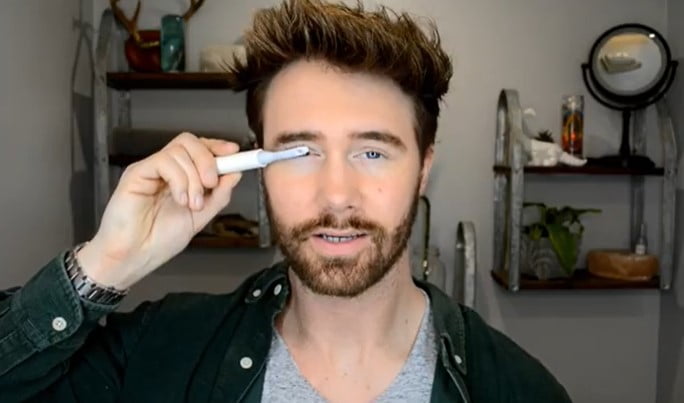 Step 3: Release the curler
Next, release the curler, move it up slightly, and press down again. Repeat this process until you have reached the tips of your lashes.
Step 4: Apply mascara
Finally, apply mascara as desired. With a little practice, you'll be able to achieve gorgeous, curled lashes that will last all day long.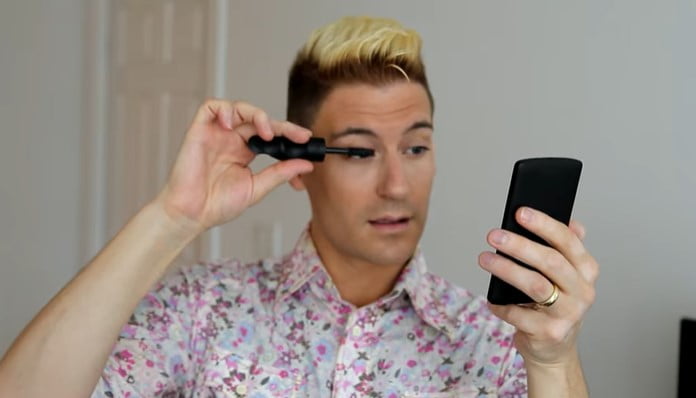 ---
Best Eyelash Curler For Men
The True Glow Heated Eyelash Curler instantly adds lift and volume for an eye-opening effect; it helps make lashes appear longer and fuller in seconds; the sleek wand design is perfect for travel and on-the-go touchups.
Start near the base of your upper lashes, hold for 8 to 10 seconds, and repeat as needed to customize your look. Finish your look with a coat of your favorite mascara.
This heated eyelash curler will help curled lashes last longer. Perfect for travel and quick touch-ups.
What Our Testers Say
It turns out that all you do is sweep it against your eyelashes just like you would if you were applying mascara. It works GREAT!! It works quickly (let it heat up first), does not pull out my eyelashes, and leaves a very natural curl.
---
No products found.
What We Like
Pocket Size
Slim
Lightweight
This eyelash curler creates an incredible natural curling look and is scrupulous in separating eyelashes clearly. It makes your eyes look attractive.
Use a coat of mascara after curling for the best, long-lasting results. Hold the position for 8 to 10 seconds (Do not press the curler directly on the eyelid). Continue until the desired look is achieved.
Pocket size, slim and lightweight. It can quickly slip into a purse, bag, or makeup case. Pretty handy, and it is very handy to use; you can get your curler eyelash done in seconds.
---
No products found.
What We Like
USB Rechargeable Battery
For All Types Of Lashes
Portable
The heated curler features three temperature modes ranging from 60 ℃ to 80 ℃, which allows this heated eyelash curler to fit all types of lashes.
The temperature indicating paper on the eyelash curler can show you the temperature change process (from blue to red).
In addition, it has a built-in clip and comb on this electric eyelash curler. Using the included brush together gives you charming and natural-looking lashes.
What Our Testers Say
The fastest heating time takes about 10 seconds, and the anti-scald design keeps you from getting scalded when you use this electrically heated eyelash curler.
---
What We Like
Non-Stick Silicone
Wand-Style
Panasonic heated eyelash curler provides long-lasting curls in seconds with gentle, evenly applied heat along the entire length of the lash.
Durable, circular lash curler comb separates, curls, and styles lashes from base to tip without crimping or pinching.
Sleek, contoured heated eyelashes curler design fits naturally in either hand for maximum comfort and ease of use.
Tips
Eyelash curler comb rinses clean under warm running water.
---
What We Like
Rechargeable
Travel Friendly
2 Heat Settings
A rechargeable heated lash lift that applies just the right amount of heat to revitalize and lift lashes without any crimping, pinching, or lash loss.
It helps to curl your lashes without any crimping or pinching like traditional lash curlers.
Rest the curler near the lash base, pull upward, and hold for 10 seconds. Repeat as necessary.
Tips
Choose either the low or high-temperature setting. To switch to the high-temperature setting, simply press the oval button one more time.
---
Common Questions About Eyelash Curler For Men
What is a heated eyelash curler?
A heated eyelash curler is a small device that is used to curl straight lashes. It consists of a small barrel that is heated and a set of curved pads that fit over the lashes.
Is a heated eyelash curler better than a regular lash curler?
Some people prefer traditional eyelash curlers because they are less likely to cause damage to the lashes. Others find that heated curlers give them better results.
If you are willing to take the risk in exchange for longer-lasting results, then a heated eyelash curler may be your best choice.
Is it hard to use an eyelash curler for men?
It is actually super simple to use. To use the eyelash curler for men, the user first heats the barrel, then places the pads over the lashes and presses them gently into place. The heat from the barrel helps to hold the curl in place.
Can guys do their lashes?
A surprising amount of men actually do their lashes. Some are undercover-lash-lovers, wanting a completely undetectable look that brightens their eyes a bit, whilst others wear them loud and proud.
Everyone can enjoy eyelash extensions for healthier and more beautiful-looking eyes.
Do men get lash lifts?
With male eyelashes usually thicker and stronger, lash lifts are a great option for those who want to keep a natural look. With a keratin treatment, lash lifts ensure that the lashes are well taken care of and provide both nourishment and strength.
How do guys get good eyelashes?
A good option is to use castor oil: Apply a small amount of castor oil on the eyelashes each night before bed and wash it off in the morning.
Aloe vera: Apply a small amount of aloe vera gel on the eyelashes before bed and wash it off in the morning.
Eyelid massage: Gently massage eyelids along the lash line.
Is it OK to curl your eyelashes?
As long as you're using a clean curler and curling instead of crimping, experts say it's totally safe to use your eyelash curler every single day.
Do they make mascara for men?
Opt for clear mascara if you want your lashes to look naturally enhanced. Alternatively, for a bolder and more stand-out look, black or brown mascara may just be for you.
What temperature is an eyelash curler for men?
Most heated eyelash curlers have a barrel temperature of between 110 and 130 degrees Fahrenheit, but the heat setting differs from tool to tool.
This is hot enough to set the curly lashes in place but not so hot that it will cause damage to the lashes or the skin around the eyes.
Can a heated eyelash curler damage your eyelashes?
The heat from the curler can damage the proteins in your lashes, making them weaker and more likely to break. Additionally, if not used correctly, a heated eyelash curler can cause burns or other injuries to the delicate skin around your eyes.
Is it OK to use a heated eyelash curler every day?
Daily use can irritate the delicate skin around the eyes. For best results, use a heated eyelash curler only when necessary, and be sure to follow the manufacturer's instructions carefully.
How to choose the best eyelash curler for men?
Power source: Heated eyelash curlers are either battery-powered or USB-powered. With USB, you have to charge the tool occasionally, while with battery-powered curlers, you need to carry just an extra set of batteries.
Size: Electric curlers come in different sizes. If you are looking for a travel-friendly option, then go for the smallest option.
Heat settings: It is a good idea to purchase a curler with adjustable heat settings.
Style: Clamp-style curlers are like traditional eyelash curlers with a clamp at the end that closes over your lashes. The wand style has a comb head that heats up, and you can run it over your lashes. This style is suitable for both brittle and fragile lashes.
Heat indicator: Models with heat indicators let you know if the curler is fully preheated for use.
Safety: Choose a heated eyelash curler for men with a thermal protective slot and auto shut-off function.
Eyelash Curler For Men Video Tutorial
Products Mentioned In This Article
We Thought You Might Like