Embellash Reviews – Wondering how come you are the one who is not blessed with beautiful long and thick eyelashes? We hear you. Every time you go out with your girls you can't stop noticing their natural long lashes, and during family gatherings, all your cousins seem to be also genetically blessed. But not all is lost, bear with us as we let you in these Emebllash reviews.
If you've been struggling for years trying to make your eyelashes grow and mascara isn't doing it for you at this point, is time for you to try other products. There's no shame in admitting you need a little help from science sometimes and luckily for you, there are always eyelash-enhancing serums, and apparently, Embellahs is getting all the right attention.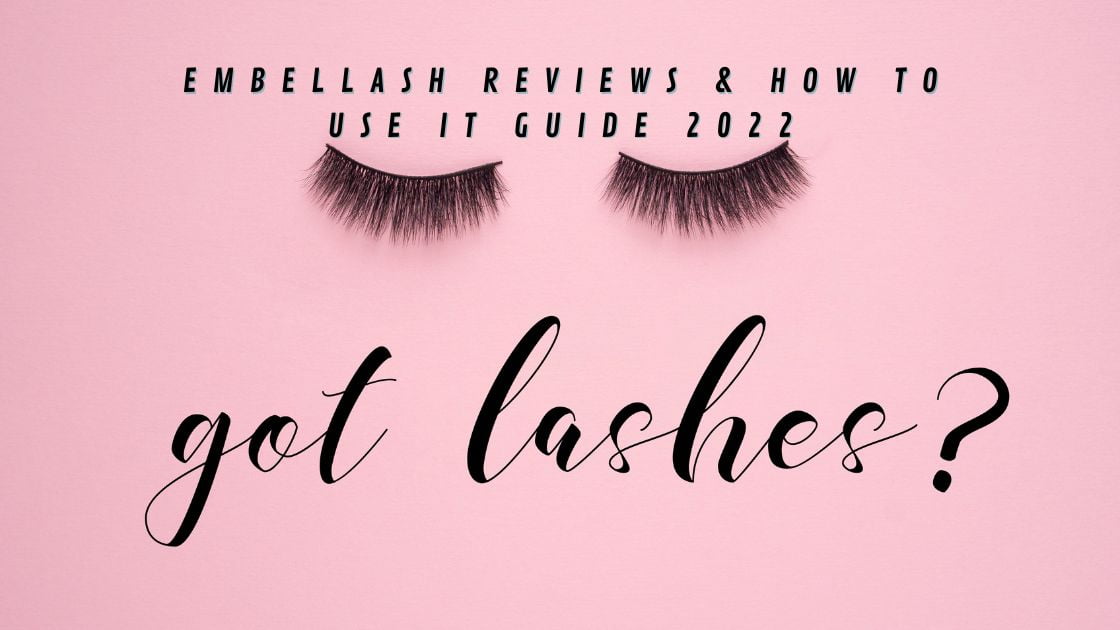 Actually, a lot of women struggle with growing their lashes, but we are here to tell you you are not alone; most of us turn to products like eyelash growth serums which work pretty well, some even call them miracle workers. So if you have made it this far, you may be the ideal candidate to try Embellash which according to most reviews it is a game-changer.
These lash serums are also perfect for those times when you want to give your natural lashes a break from the repeated use of extensions. So stick around as we share with you Embellash reviews, other alternatives, where to find them, how to use them, and a lot more.
Embellash Reviews Plus Alternatives Reviewed In This Article
Embellash Reviews: Does it really work? What You Need To Know About Boostlash
---
Embellash reviews Explained
Embellhas is a cosmetic eyelash-enhancing serum that is clinically developed to help improve the visible fullness of lashes during the lash's natural growth cycle.
It is described as a powerful system that consists of peptides and nutrients that address visible signs of thinning and/or inadequate eyelashes.
Emebellash also claims to be safe and proven to help eyelashes appear longer, fuller, and stronger. It is made by Protégé Beauty, the company guarantees their products are paraben, phthalate, and cruelty-free.
Embellash Benefits
Enhanced fuller and longer eyelashes
Visibly strengthens lashes
Conditions and fortifies to promote growth
Enhances shine and suppleness
Key Ingredients
Triple Active Peptide Blend
Silk Amino Acids
Botanicals
What We Like
Natural Ingredients
No Eye Color Change
Works For Lashes And Brows
Easy To Apply
What Our Testers Say
I have been using Embellash for just about a month now. I have noticed lash and growth of my eyebrows. They are long and very conditioned. The ingredients contain a KGF peptide, fermented kelp, and Grapeseed. They guarantee no eye color change and no loss of new lash growth. The best part was that I got a compliment from a nurse in my doctor's office. She said I had beautiful eyes and my lashes were so long! When others notice, you know there is a definite result. I would definitely buy this product again. It is packaged in a mascara-like tube with a small brush to paint on the lash lines and eyebrows.
Embellash Alternatives
---
What We Like
Promotes the Appearance of Longer Thicker Eyelashes
Cruelty-Free
Beauty Award Winner
Award-winning lash-enhancing serum created with vitamins peptides & amino acids for the appearance of longer, thicker-looking lashes in just 4-6 weeks with full improvement in 3 months.
Tips
Allow 1-2 minutes to fully dry. Do not get into the eyes; in event of direct contact, rinse with cool water.
Promotes the appearance of longer, thicker-looking natural lashes. Apply once daily on the upper lash line only like a liquid eyeliner. Use only one dip for both lash lines.
What Our Testers Say
Add your text here
---
What We Like
Clear
Nourishing
Brow And Lash
Cruelty-Free
What We Don't Like
Plastic Bristles are Too Firm
This revitalizing serum gel is supercharged with a brow and lashes boosting complex that works to pump them up and make them look and feel fuller and lusher.
A combination of Biotin, Peptides, and Niacinamide B3 helps nourish and protect hair, making it look and feel stronger.
Tips
Be careful during application though because the serum does burn if it gets in your eyes.
The addition of Castor Oil and Vitamin E helps to keep the brows and lashes hydrated and well-nourished so that they look and feel their healthiest.
What Our Testers Say
I had my eyelash extensions removed — no lashes left! I can't use Latisse because of allergies. I have been using this every day now for 5 days. Big difference! I also use this on my lower lashes and they have grown longer too. Be patient, you will see growth and thickening.
---
What We Like
Irritation Free Formula
Nourishing
Easy To Use
EssyNaturals' formula is non-irritating, gentle, and safe for all skin types. It is a nourishing serum that will help frail lashes and brows to grow stronger and healthier with daily use.
EssyNaturals Eyelash Growth Serum & Eyelash Enhancer was specially created to strengthen, magnify, prime and lengthen your natural lashes and brows.
Tips
With the applicator tip, apply serum to the root area of the upper eyelashes or brows, similar to eyeliner application. Use daily and let the eyelash serum work its magic.
This formula has been proven to help boost the thickness and length of eyelashes with only 3 weeks of daily use. Over 6 weeks of daily use saw a 55% increase in natural eyelashes.
What Our Testers Say
I have tried all of the high-end pricey serums and this product is by far the best. My lashes are longer, thicker, and fuller. I even have one or two that curl. I also will have a few crazy rogue lashes that are a lot longer than others. It takes about two weeks to see the results.
---
What We Like
Biotin & Peptides
Nourishing
Conditioning Serum
Natural Finish
Formulated with biotin and peptides, this lash booster leaves lashes feeling moisturized and longer-looking in just 4 weeks with 9 out of 10 women seeing lash enhancement.
Get healthier and fuller-looking lashes with Neutrogena Lash Enhancer Serum. This lash-enhancing serum comes infused with biotin and peptides.
The formula nourishes and conditions to promote the appearance of healthier, fuller, and more beautiful-looking lashes.
Tips
To get fuller and healthier-looking lashes, apply conditioning serum nightly at the base of the lash line and along lashes to the tip.
This gentle lash-boosting serum is safe to use around the eyes and has a fine-tip brush applicator to make application quick and easy.
What Our Testers Say
I'm menopausal and my hair, lashes, and eyebrows fell out and weren't showing any regrowth. It took a little longer than reviewed but believe this was due to my hormones. Highly recommend. I brush on my lashes and also eyebrows before bed each night and massage with my fingertips to ensure distribution is even… will buy it again.
---
How To Use Embellash Steps By Step
Step 1: Remove eye makeup
Carefully remove eye makeup with oil-free makeup remover and ensure the skin around the eye is dry.
Step 2: Apply Embellash
Gently apply Emebellash on your upper or lower eyelids, before going to bed and before applying eye makeup in the morning.
Step 3: Remove excess and wait for the results
Blot away any excess serum from the corner of your eye to prevent irritation and potential hair growth elsewhere.
Sit back and see how your eyelashes will keep growing and getting thicker with this unique eyelash growth serum.
Common Questions About Embellash Reviews
Does eyelash-enhancing serum work?
Over-the-counter eyelash serums can't actually cause growth, but they can still create healthier lashes. These formulas contain ingredients designed to condition and strengthen lashes, which will lead to less breakage.
Why use eyelash-enhancing serums?
While a good mascara does the trick for instant results, you might consider enlisting the help of a lash growth serum for an even bigger boost.
Although you might not necessarily see dramatic results from these serums right away, they contain nourishing ingredients that strengthen eyelash hairs over time, so they're stronger and more resilient against breakage.
How to choose an eyelash-enhancing serum?
Experts recommend looking for a formula that contains biotin, peptides, or lipids. Biotin is a B vitamin that helps lashes grow longer and thicker and stimulates the growth of additional eyelash follicles.
Lipids condition and moisturize the lashes and peptides specifically act on the skin cells of lashes to create a healthier foundation and boost volume.
Are there any downsides to eyelash-enhancing serum?
For some people, these formulas may cause sensitivity or an adverse reaction, itchiness along the eyelash line is one common side effect. Some might only be able to use an eyelash growth serum a couple of times a week instead of every day.
Should I use Embellash every day?
Emebllash like most serums needs to be absorbed into the hair follicles. For best results, consistency is key. Apply once a day in the evening for at least 8 weeks: your eyelashes have a long growth cycle, so it takes time to achieve optimal results.
How To Use Embellash Video Tutorial
Not feeling confident about how to use your new Embellash serum? Know that these are not hard to use at all.
In this short video you'll get to know the exact process, steps, tools, tips, and tricks, you must know to master the use of Emebellash enhancing serum.
Products Mentioned In This Article
Enjoy Your New Embellash serum
If you are having a hard time getting your lashes to grow, the use of lash serums is advised by experts, and according to Embellash reviews, this is a product that seems to come up on top.
Keep in mind you deserve the best quality products that guarantee results can come with a price tag. So, for longer, thicker lashes make sure to use Emebllash.
Let us know if you have any questions or comments. We are always here for you.
We Thought You Might Like