In the look for the best possible lash extensions for you? Then there are a few things you need to understand first, including a lash size chart. Knowing about different lash extension curls, thickness, length, and how each work can certainly elevate your entire look.
When it comes to choosing the right lash size, it's definitely more into it than 'one size fits all.' First, you need to understand which lash thickness works with your specific eye shape. And with various aspects like an eyelash, curls, different lengths, and thickness or diameter, it becomes relevant to study a lash size chart.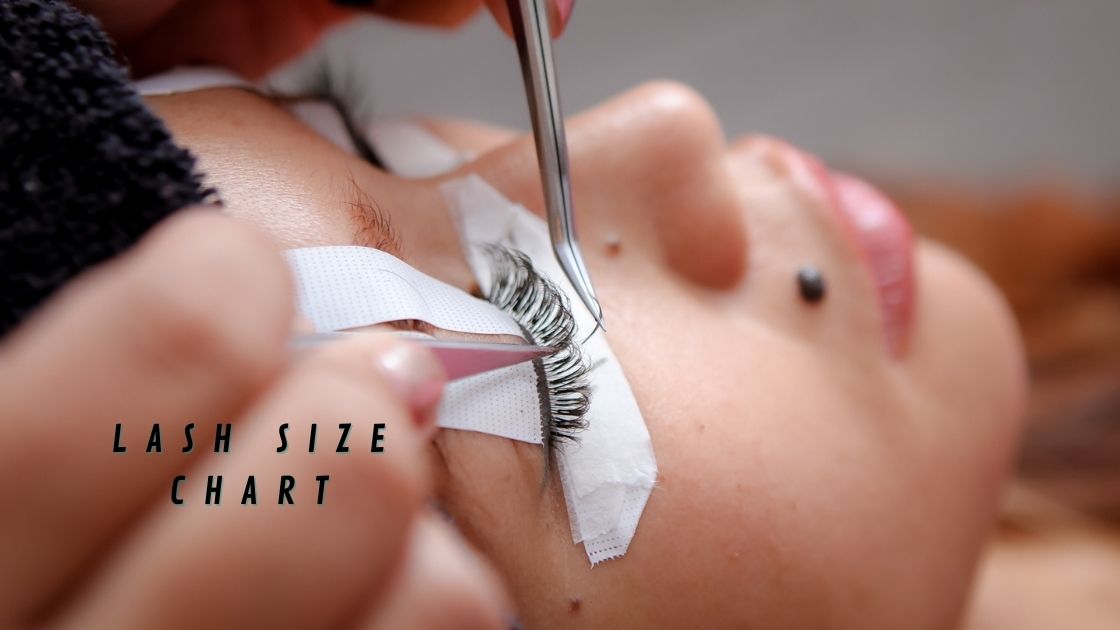 There are countless lash lengths to choose from for extensions; depending on where you go, some will have more or less length. Whether you are new to extensions or you've been getting them done for years, length is a great way to experiment with different styles.
However, finding the right lash size can feel like an intimidating task; you may not know exactly what to look for, and that's why we've taken the time to develop a lash size chart that can help you easily identify what would work best for you. Check out below our lash size chart guide and more useful tips.
Lash Size Chart Parameters: Curl, Length, Thickness
Curl
The curls are defined by a letter representing the look of the curl.
J curl is obviously more of a J shape and is the least curly or lifted.
B curl is a lesser or basic curl.
C curl is the common curl that matches most people's natural lash curl.
D curl is the most dramatic and lifted; it will be the most visible from the front and the most popular.
L curl has a harsher L shape that makes these lashes ideal if working with clients with hooded eyelids for whom D curl just isn't enough.
Length

Length is largely decided by the length of your natural lashes, be cautious of going too long as it may decrease retention or cause breakage. But everybody loves length, so if you prefer them long, maybe opt for a volume set that consists of more finer lashes.
Typically Lash Lengths fall within the ranges of: short, medium, long, and very long.
Shorter than 8 – 9: Short (Very Natural, typically for inner corner lengths)
10 – 12: Medium (Natural Mascara Look)
13 – 14: Long (Long for a little extra oomph!)
15 and Above: Very Long (Dramatic Glamazon)
Choosing the right length comes down to different factors:
Your natural lash's ability to support the weight: Some people love going super long and dramatic, which is great, but it's important to take your natural lashes into consideration.
Your natural lash length: Your natural lashes also indicate what lengths would flatter you the most.
Eye shape: Eyes come in all shapes and sizes; lash lengths will look different depending on them. Some have more deep-set eyes and may find they need to go for a longer length than someone with prominent eyes. This is often the case with hooded, mono lid, or deep-set eyes.
Thickness or Diameter

Eyelash extensions are created with different diameters for different purposes.
.03mm, .05mm, and .07mm Extremely thin and extremely lightweight and used mostly for mega volume & Russian volume lashes, or to fill in gaps, and used on very thin/very fine natural lashes.
.10mm This thickness can also be used for Volume 2D (depending on the natural lash thickness and length) or as classic lashes on thinner, very fine natural lashes.
.12mm Used on thinner lashes (classic lashes) or for a softer wispier look and feel.
.15mm This is the average lash thickness, creating a naturally thicker look (classic lashes).
.20mm This lash extension thickness creates a natural mascara look.
.25mm Creates a more striking glamorous look; this lash may be too heavy for most people's lashes.
.30mm For healthy, strong, thick natural lashes. It creates an extreme look–again, it might be too heavy for most people's lashes.
Mega Volume: When looking for a thick and fabulous set of lashes, go with lash extensions with a thickness of 0.03mm to 0.05mm. Mega volume lashes give the eyes a denser and darker look, bringing the focus to the eyes.
Russian Volume: Aimed at giving the lashes a soft, fluffy look, these lash extensions leave the customer confident and feeling fabulous even without wearing makeup or mascara. Russian volume eyelash extensions focus on filling the gaps left by natural lashes using layers of lightweight extensions.
Classic Volume: It provides the right volume, especially for those with thinner natural lashes, while keeping a more authentic finish.
If you are still unhappy about your lashes' length, you can always trim them; for that reason, you should read about the best methods on How To Trim Eyelashes.
How To Apply Lash Extensions According To Lash Size Chart
Step 1: Prep the eyelash
Prepare the eyelash by separating the bottom and upper lashes with lash tape.
We recommend Lash Extension Under Eye Tape. Each roll is 0.5 inches in width, approx 10 yards in total length, enough to use for a long time.
No products found.
The lash tape is made of non-woven fabrics, which are breathable and comfortable. The viscosity is moderate and will not harm your skin when removed.
This fabric medical tape is easy to tear and can be cut into any shape, suitable for eyelash extension, protecting fingers from injury, protecting back heels and etc., enough to meet your different needs in daily life.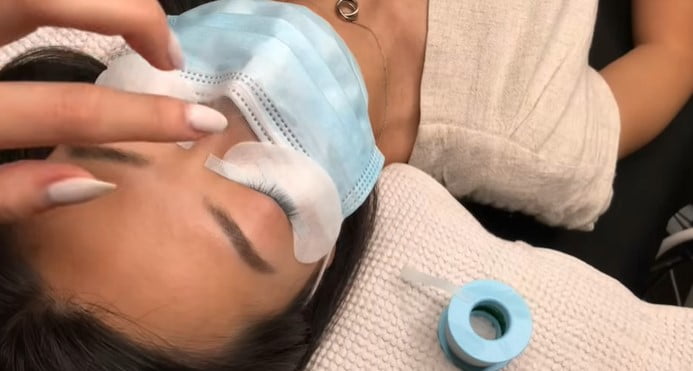 Step 2: Isolate each natural lash
A natural lash is separated from the other lashes. It is essential to isolate each natural lash before applying for the extension.
No products found.
To do this, use Precision Tweezer Set for Eyelash Extensions. Use these precision tweezers for eyelash extensions and false eyelashes for an effortless and precise application every time.
The precision tweezers set comes with boot volume 75-degree tweezers, strong curve tweezers, soft curve isolation tweezers, long boot 45-degree volume tweezers, and straight isolation tweezers.
The stainless steel tweezers are ideal for professional makeup artists and estheticians to isolate individual lash extensions or grip full strip lashes.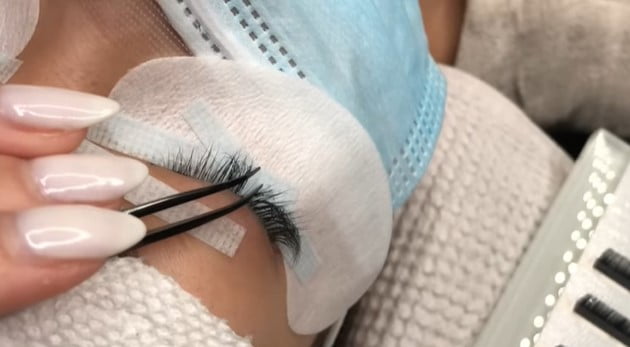 Step 3: Select your synthetic lash
Once a natural lash has been isolated, the extension is selected from what we call a lash tray.
No products found.
If you choose to go with the classic volume, we recommend VEYES INC Eyelash Extension Classic Volume Lash Extensions. You get 12 rows/ tray of 0.2mm D Curl 8-16mm mixed individual lash extensions.
These handmade classic lash extensions are made of Korean Black PBT. These are soft and lightweight and can be washed.
The classic volume lash extensions are additionally heat resistant and easy to remove. They'll feel as comfortable as your real lashes.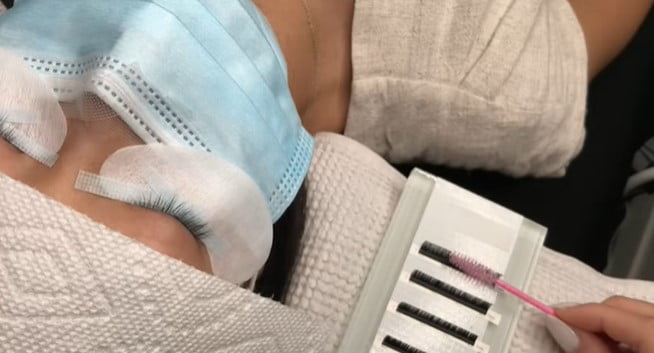 Step 4: Dip the lash tip in adhesive
It is dipped in the adhesive, not too little, or it won't adhere but not too much, or you will likely glue lashes together.
No products found.
Try using Extra Strong Evolution Eyelash Extension Glue. Extra strong evolution and sensitivity, an ideal combination for skilled lash professionals.
The lash glue offers strong and durable retention that lasts the longest, up to 8 weeks, with a drying time of 1-2 seconds.
This lash extension glue is the best choice for advanced professional lash extension stylists, with low fume levels, low viscosity, and high flexibility.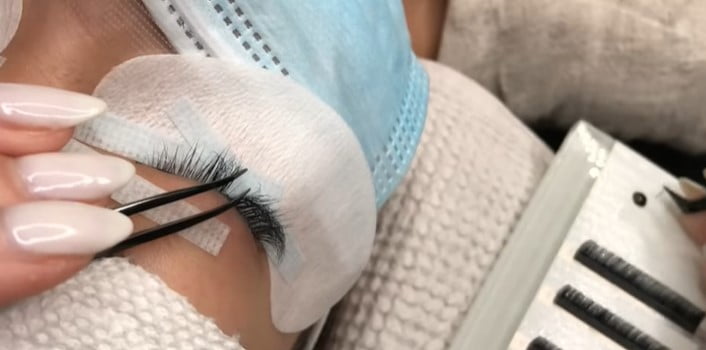 Step 5: Place the lash extensions and allow them to dry
Then the extension is placed on the natural lash's top (or sometimes to the bottom). The position is also important; you don't want the lash to cure laying at an angle.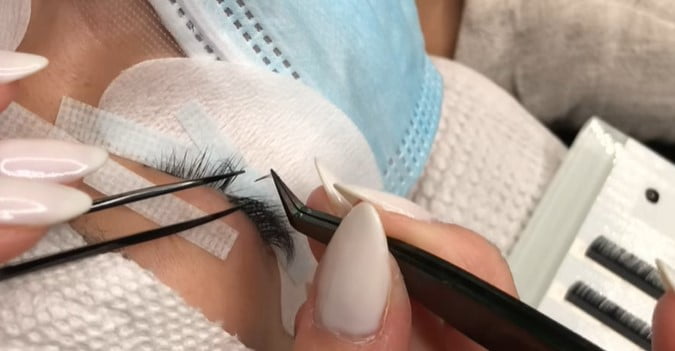 Tips To Selecting The Right Lash Size
Eyelash packaging should indicate the size of the extensions. Use this as a measurement of your eyes to determine the thickness of the natural lashes.
Check the condition of your natural lashes. Healthier and thicker natural lashes can usually handle thicker and heavier extensions.
Avoid going over 2 to 3 layers if having extensions for the first time. Asian eyes are not recommended to have more than five layers, as they have thinner natural eyelashes.
Avoid anything that is too thick .20 mm or .25 mm is just too much for most lashes to handle.
The thickness of your natural lashes will affect what we can put on as extensions. Too thick, too long, or too many can damage your natural lashes.
Common Questions About Lash Size Chart
Why should you need a lash size chart?
A lash chart can easily show you the different lash extension lengths and curl types that you can find in the market. This understanding will allow you to choose the best possible lashes.
Professionals also use a lash size chart to show clients the different sizes and curls of lashes that are available to them. This will help them create a unique look just for them.
How do you know what size eyelashes to get?
Generally, the goal is to match the natural diameter, but there are a few situations where you might go slightly thicker than the natural. Though, matching the diameter to your natural lash is a good rule of thumb.
What is the most popular lash size?
15 mm is most common for classic lashes; 10 mm could be used on very fine lashes or can be placed with another . 10 mm to create a volume/2 dimensional effect.
What thickness is best for classic lashes?
The best thickness for the classic look is 0.12mm, 0.15mm, 0.18mm, 0.20mm, and 0.25mm.
However, lash extensions with a thickness of 0.15mm stand out as the most popular option, leaving a naturally thick look that complements the classic set of lashes.
Which is curlier C or D curl?
D curl is very similar to C curl, just curlier. They are especially effective for clients with downward-angled lashes who want a show-stopping look. These lashes will brighten and widen the eye and give a noticeable curled effect.
What length are natural lashes?
The standard size for short lashes is 6-11mm, the medium is 10mm-14mm, and the length is 14-22 mm. Natural lashes measure between 3mm to 18mm.
Lash Size Chart Video Tutorial
Products Mentioned In This Article
We Thought You Might Like