Are you obsessed with your lash extensions but feel like they need that extra oomph for your upcoming event? We hear you! Then you may want to do a little eyeliner number; with the best eyeliner for eyelash extensions, you bet you'll elevate your entire look to the next level.
If you ever thought that eyeliner was out of the question just because you are rocking lash extensions, then be warned: eyeliner is never off the table, my friend. While it is true that lash extensions rock on their own, you may have a specific occasion that calls for a more dramatic style.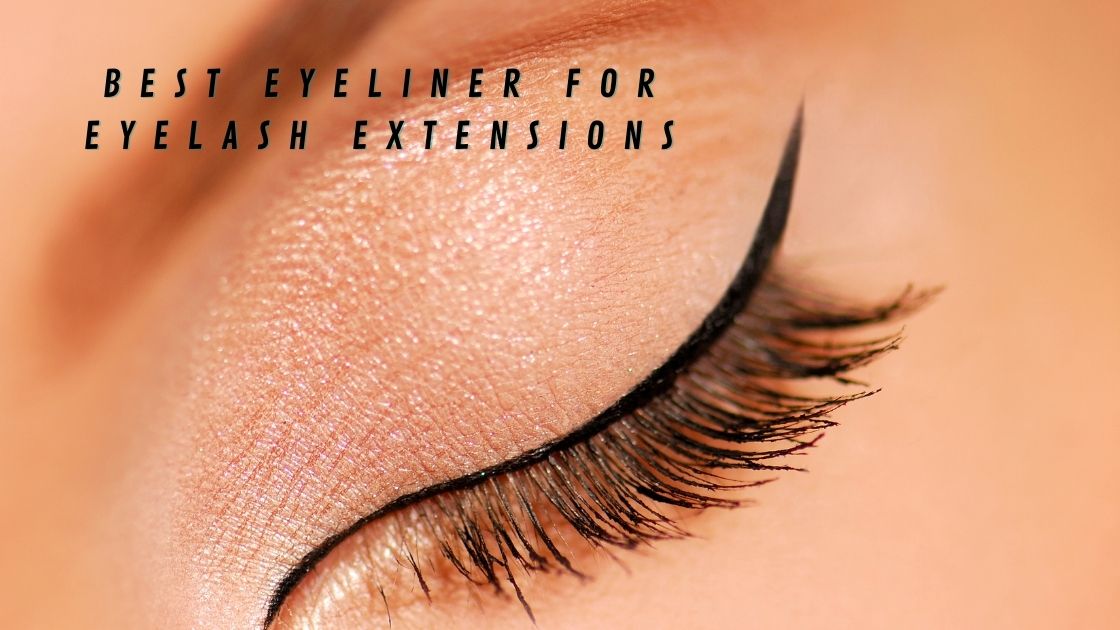 Here is when the best eyeliner for eyelash extensions can add just the right accent to your eyes. However, things aren't exactly as simple. Unlike with your natural eyelashes, you can't just grab your favorite eyeliner; you need to use the right type of eyeliner to avoid messing with your lash extensions.
That's right; you need to find the perfect eyeliner to use with your gorgeous lash extensions. So you are probably wondering, in a sea of options out there, how do you know which is the best eyeliner for eyelash extensions? Below you'll find everything you need to know to choose the best eyeliner for eyelash extensions.
Best Eyeliner For Eyelash Extensions
What We Like
Hypoallergenic
Precise Application
Liquid
Natural Finish
Neutrogena Precision Liquid Eyeliner in Jet Black is highly pigmented and water resistant for solid, defined lash lines that won't crack or melt.
Precise eyeliner smoothly glides on quickly and easily, offering effortless application of sharp, clean, dramatic lines.
Formulated with natural honey and coconut, the smudge-resistant eyeliner is quick drying and long-lasting, so it doesn't fade or flake
What Our Testers Say
This is by far my favorite liquid eyeliner. It goes on smooth….thick, or thin lines, whatever your preference. I will definitely buy it again.
---
What We Like
Oil-Free
Improved Formula
Easy To Remove
Liquid Eyeliner for eyelash extensions is a strong liquid eyeliner that doesn't easily smear with sweat or tears.
It contains spearmint and green tea leaf extract to condition and protects the eyeliner area. It can be removed with warm water.
What Our Testers Say
This product is oil-free, which is required for extensions. I like this better than the former liner. Does not come out with an excessive amount of liner liquid. I reordered a backup. Very happy with this product.
---
What We Like
Carbon Free
Silicone Free
Cruelty-Free
Ophthalmologist Tested
With this high-impact eyeliner for lash extensions, you can create endless liner looks with ultra-pigment, and thanks to its flexible tip applicator, you can go from fine lines to dramatic wings.
Create a satiny-smooth line with our highly-pigmented formula that glides on seamlessly. This inky formula glides on effortlessly and lasts up to 8 hours of flake-free wear, while the felt-tip provides flawless precision.
Our liquid liner gives you precise application no matter your eye shape, lid type, or go-to style.
What Our Testers Say
I love this eyeliner. It goes on easily, lasts, and doesn't cause any issues with my eyes. I'm very happy with it and will order it again.
---
What We Like
Hypoallergenic
Oil Free
Fragrance-Free
This is one smooth eye pencil; no dragging, no catch… it just glides easily over your lids. This eyeliner formula is crafted to be long-wearing, water-resistant, that won't run, smear or rub off.
A built-in sharpener keeps the point sharp for precise definition, meaning you always get the crispest lines.
The eyeliner formula was also made with vitamin E to nourish and protect your delicate eye area.
---
What We Like
Oil-Free
Sulfate and Paraben Free
Long-lasting
Rich Italian pigments for long-lasting defined eyes. Apply with the perfect eyeliner brush. Drama/Line can be smoked when wet, and once it sets will not smudge or smear.
Removes gently with LAshX Lash Cleanser. Drama/Line is safe for eyelash extension wear and free of fillers, Parabens, Sulfates, Surfactants, Oils, and Glycol.
In a few words, this eyeliner is healthy and safe for lashes and eyes, and it is also safe for eyelash extensions.
What Our Testers Say
Great liner to use with my lash extensions! I also love that the brush is a fine tip, making it easy to draw on my cat's eye! I would recommend it to my friends!
---
How To Apply Eyeliner For Eyelash Extensions
Step 1: Clean your eyelashes
Clean your lashes by washing them, combing them, and air-drying them.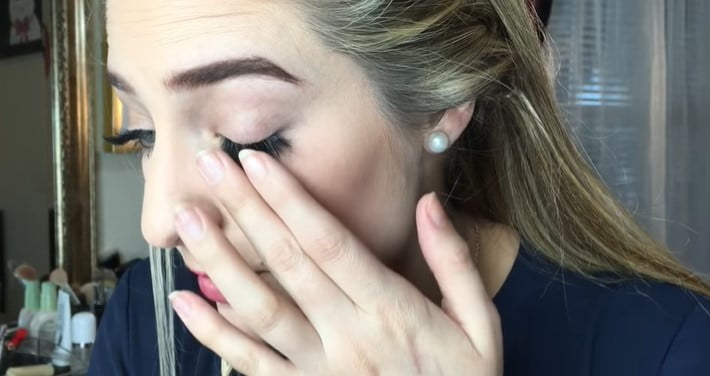 Step 2: Prep the eyelash
Take your liquid liner and place it behind the eyelashes before application.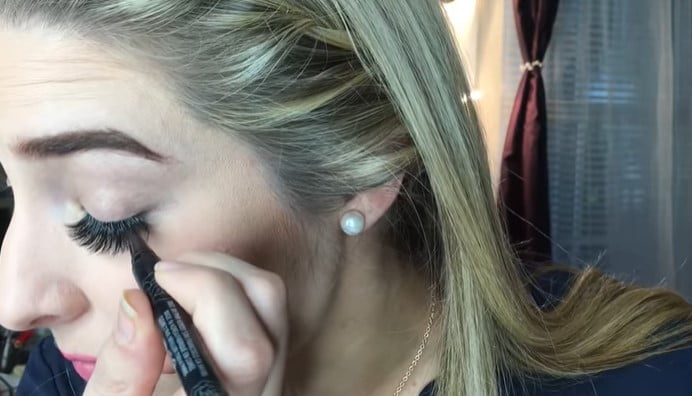 Step 3: Apply
Start drawing from the inner corner of your eye and go towards the outer corners. Start with the wings first on both eyes if you're aiming for a winged style.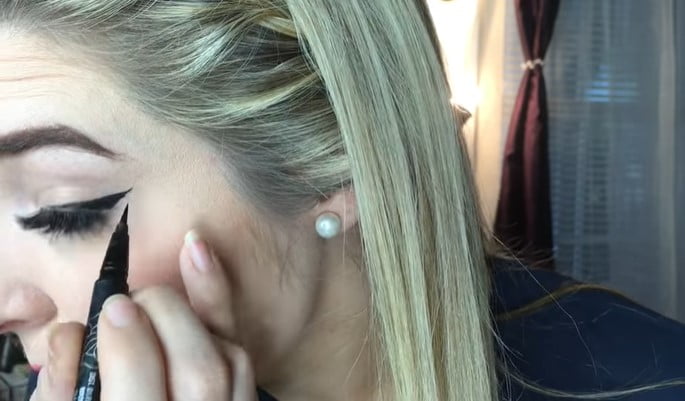 Step 4: Don't touch your extensions
Avoid having your eyeliner touch your lashes. Always apply the eyeliner above the lash line to prevent touching the extensions.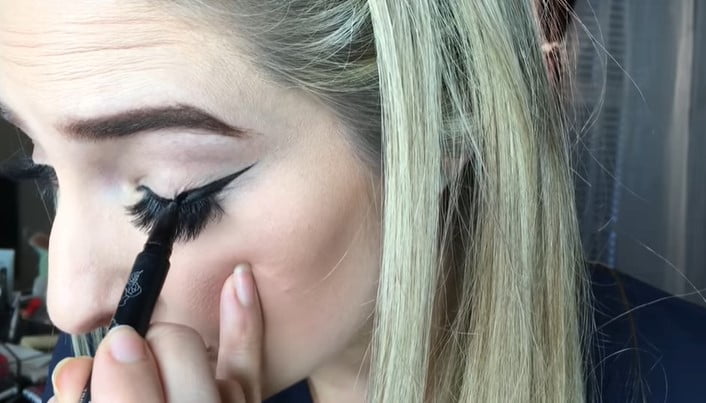 Tips To Apply Eyeliner For Eyelash Extensions
Remember that less is more when you can't step out without eyeliner, no matter how thick your gorgeous new extensions look. The golden rule is to avoid layering that liner again and again.
If you have to put the liner on, keep in mind to apply it so that it doesn't touch the lash line. Avoid applying your eyeliner to the roots no matter how safe it's advertised for eyelash extensions. Don't put the eyeliner between eyelashes or do tight-lining.
Stay away from any oil-based products.
Avoid pressing or pulling down your eyelash extensions when applying the eyeliner, as they can get damaged.
If you're applying eyeliner while wearing false lashes, you should be more gentle with the application, so it doesn't rub too hard against your lashes.
Start applying liner at the inner corners of your eye and follow your eye shape to the outer corners.
Common Questions About Eyeliner For Eyelash Extensions
Why wear eyeliner with eyelash extensions?
If your eyelash extensions aren't full or you are wearing the classic set, applying eyeliner can make your lashes look thicker with a bold outline. It opens up your eyes and makes them look brighter too.
One common benefit of eyeliner is that it makes your eyelash extensions look more natural, as if you're just wearing bold eye makeup.
What is the worst and best eyeliner for eyelash extensions?
The best eyeliners for lash extensions are liquid and shadow-based liners, while gel and waterproof liners are the worst. You should avoid oil-based eyeliners because eyelash glue can be dissolved by oil if used repeatedly.
What are the types of eyeliner for eyelash extensions?
Liquid liner: Also known as 'ink liner', this eyeliner may come as a liquid liner pen, gel pot, or in tube. Besides being easy-to-apply, liquid liners are also easy to remove with warm water.
Powder eyeliner: Another best companion for lash extensions is the black pressed powder that's often applied using an angled brush around the eyes. Often called a shadow liner, it's the best way to define your eyes when wearing eyelash extensions without irritating them too much.
Water-based: Any eyeliner you decide to use with eyelash extensions must be water-based instead of oil-based.
Cake liner: While this type of eyeliner smudges easily, it's gentle, easy to remove, and perfect for creating a vintage-inspired look.
What types of eyeliners are unsuitable for eyelash extensions?
Waterproof: As they're thick and contain waxes and oils that are hard to remove, they damage your lashes ultimately. The oil in the waterproof liner degrades the bond created by lash glue to attach extensions to your natural lashes.
Pencil liners: Both mechanical and traditional pencil liners are a big no-no when you're wearing lash extensions because they can often tug on the lash line during application.
Gel liners: Most gel liners are waterproof and sweat-resistant. They are hard to take off because you need to swipe back and forth around the eyes.
Glitter liners: Unfortunately, glitter liner isn't safe for your natural lashes or lashes extensions. Glitters can enter the tear film of the eye and lead to irritations.
Is it hard to remove eyeliner for eyelash extensions?
Remember that you should always take off your eyeliner before bed. And no, removing eyeliner for eyelash extensions isn't hard at all. Here is how you should remove your eyeliner while wearing eyelash extensions:
Take a lint-free material such as doe-foot, scot towel square, or makeup brush.
Dip it in your oil-free eye makeup remover or lash shampoo.
Gently rub off the eyeliner from your eyelids by pressing.
Don't swipe back and forth or side to side while cleaning.
Once you're done, wash your eyelash extensions with your cleanser.
Dry and comb the lashes.
Are there any downsides to using eyeliner with eyelash extensions?
During the removal process, if you rub harshly while removing your eyeliner, your eyelash extensions could fall out prematurely.
Applying multiple layers of eyeliner on top of your lash extensions can clump the fake lashes together and keep them that way throughout the day, further aggravating the damage.
Why you should only use eyeliner for eyelash extensions?
The wrong type of eyeliner can also create irritations and other problems for those who wear contacts or have sensitive eyes. If you still can't resist wearing eyeliner, perhaps choose a permanent option, but not before you read about the Pros And Cons Of Permanent Eyeliner.
How to choose the best eyeliner for eyelash extensions?
Oil-Free: When choosing the best eyeliner for eyelash extensions, you must ensure that the product claims it's oil-free or water-based. Though water-based doesn't necessarily mean oil-free, it usually means the water content is more prominent.
Ingredients: Look for a gentle formula that won't sting or irritate your eyes. You want to find ophthalmologist-tested eyeliners.
Pigmentation: Not all liners are created equal! Some have a more translucent color that must be applied multiple times to get the payoff you're looking for.
Applicator Type: Thin felt tips will deliver tighter lines, while brushes and thick tips might be better for creating cat eyes. Consider the look you're going for to decide which applicator is best for you; you can check our guide To Use The Eyelash Brush 2022
How to tell if your eyeliner is oil-free?
If you already own eyeliner and are unsure if it's oil-free, here's what you can do. Apply it to the back of your hand. And when it's dry, run some water over it to see how it dissolves.
Oil-free ones dissolve with just water. And when you rub your finger over the eyeliner residue, you shouldn't feel anything oily or waxy.
Best Eyeliner For Eyelash Extensions Video Tutorial
Products Mentioned In This Article
We Thought You Might Like