When we talk about double stacked eyelash extensions, we refer to the way how extensions are applied. If you are new to lash extensions, know that extensions are mostly applied on the top lash line, and they are applied either in clusters or fans or individually.
The eyelash extensions industry has come a long way – what started as clunky cluster or party lashes has been replaced by light and flattering eyelash extensions which pose no threat to the health of anyone's eyelashes. As you may imagine, there is a significant difference between cluster lashes and individual eyelash extensions.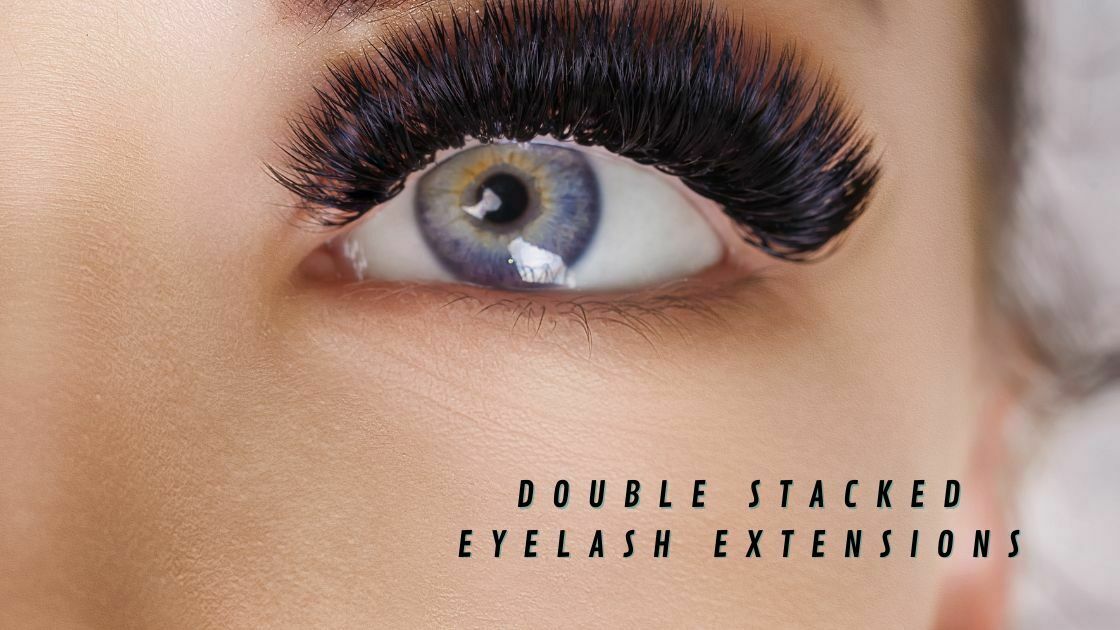 If you are looking for a dramatic style, then double stacked eyelash extensions are what you need to make you stand out from the crowd. With lash stacking, you can take your current lash style and amplify it to the next level without losing the lash style you love but making it much better.
As you can tell, with double stacked eyelash extensions, there are several benefits. You can also enjoy the freedom of creativity and be your own artist by mixing something unique to your specific lash needs. If you can relate and want to take your lash game to other heights, stick with us and learn all about double stacked eyelash extensions.
Stacked Lashes Vs. Individual Lashes Extensions
Stacked Lashes
Stacked, overlapped, cluster or double-layer lash extensions are a collection of individual lashes that are grouped together, or 'stacked,' and glued at one end, finishing with a thick base. They can often be made from small, cut sections of a strip lash.
Their bases tend to be quite wide and heavy. These lashes are also known as party lashes and are sometimes offered as an express eyelash extensions treatment in salons.
Cluster lashes can be very heavy on the eyes, and, like strip lashes, they should not be worn for more than a day. Unlike individual eyelash extensions, they are applied with glue on top of each other along the lash line (often touching the skin).
Individual Eyelash Extensions
Individual lashes are made from synthetic fibers and can come as either a singular lash or in a 'fan-like' fashion with several lashes joined together.
Singular lashes are used to create a more natural 'classic' look, whilst anything more than a singular lash is referred to as a 'volume' look.
The number of lashes that are in a fan is referred to by using the letter 'D'. Volume fans can vary from anywhere between 2D-14D.
Double Stacked Eyelash Extensions Steps
How to Stack Using Strip Lashes
Measure each lash band to your correct eye length (you want them both to match)
Use scissors to cut off any excess length
Apply to lash adhesive to the 1st lash that will be placed on top
Wait for the glue to get tacky
Place the 1st lash on the 2nd lash band
Secure lashes by pressing them gently together with your fingers
Once the stacked lashes have dried, apply another layer of glue to the lashes
Wait for the glue to get tacky
Apply lashes to your eyelid, and you are all done
How to Stack Using Individual Lashes
Drop a bit of lash glue onto a clean surface
Use tweezers to dip the individual lash into the glue
Wait for the glue to get tacky
Place the individual lash on your chosen lash band. Repeat until finished
Best Double Stacked Eyelash Extensions
What We Like
Clusters
Easy Application
Varied Lengths
Enhance your lash length and volume for an easy-to-achieve lash extensions look; lash clusters with flat roots, and tapered ends mimic actual lashes; each cluster features an exclusive flat-band technology and contains 20 lash strands.
Results are comparable to lash extensions or individual lashes but faster and easier; varied lengths let you customize your lash length and fullness.
KISS offers an array of options to get the look of lash extensions in minutes using our easy-to-apply fake lashes.
What Our Testers Say
I've tried almost every at-home lash extension on the market, and Kiss is always on top. Affordable, good selection, and the curl is perfect for my hooded eyes. They look like my lashes but better.
---
72 clusters in one tray. You can apply cluster lashes at home by yourself. Easy to put lashes on, gorgeous results, and lash clusters are not easily fall apart. Clusters take less time to complete each eye.
Use a tweezer to pinch the band of cluster eyelashes and apply lash clusters below your natural lashes. You can barely feel the cluster lashes.
The bottom of the clusters is flat and hardly noticeable. The lash band part will not stab your eyelid area when you blink. Bring you a perfect experience during lash application.
What Our Testers Say
These clusters are great, and I love that you can purchase the one-length vs. the variety pack. They're lightweight, and I don't feel anything when I put them on. They're also easy to remove from the packaging.
---
What We Like
C Curl
Natural Style
0.07mm Thickness
Volume lash extensions 5D C D curl, 0.07mm thickness, 9mm to 14mm length. This 5d volume lash saves you a lot of time. Real matt black perfect for Russian volume fulls looks set.
Using high-quality matte pure black Synthetic fiber materials, very soft and light. Baking technology was added to make premade volume lash extensions curvature more durable and softer.
It is easily removable from the basis. No residual, recycling use, and easy to tear. The 5D short stem premade lash fans will give you a luxuriously fluffy and glamorous look.
What Our Testers Say
I've been doing my lashes at home since the pandemic. I tried several different brands until I found ME.LASH. The lashes are phenomenal and of very good quality. One on, they last several weeks without any issues. I highly recommend it to anyone looking for high-quality lashes!
---
Ardell Wispies Cluster 600 is knotted and feathered by hand for perfect uniformity, absolute comfort, and an outstanding demure look that still makes a major beauty impact.
These voluminous cluster faux lashes feature high-quality strands for fuller dramatic lash looks and have tightly bundled lashes to add depth and dimension to your eyes.
These lash extensions will help you achieve the perfect dramatic effect and glamorous look for all occasions and are designed perfectly shaped and arranged to give striking effects perfect to bring out dramatically intense eyes.
What Our Testers Say
I finally found my "go-to" lashes! The Ardell Baby Wispies are just the look and style I am going for. I have naturally long and thick lashes, but I like to add more fullness without them being too long or looking artificial.
---
What We Like
Lightweight
3D Effect
Cruelty-Free
Different effects can be grafted, open eyes, cat eyes, and dramatic eyes. The individual lashes are made of high-quality synthetic fiber material. The cluster eyelash extensions are light and comfortable to wear.
The eyelash clusters have no glue residue and stable curl, and individual lash clusters can be easily removed from the paper card. Color matte, realistic and natural.
These individual lash extensions ​are simulated in color, the color is matte black, very natural, and the wearing effect is 3D. They can be removed by eye makeup remover.
What Our Testers Say
These eyelashes are the BOMB!! I will definitely be ordering more. I had no problem applying them to myself. The hardest part was taking the lashes off the sticky strip, but as long as you are careful and take your time, you should be perfectly fine.
---
Common Questions About Double Stacked Eyelash Extensions
What are double stacked eyelash extensions?
You really can't go wrong when it comes to stacking lashes. You can stack strip lashes on top of each other or add individual lashes on top of a strip lash. Remember, when it comes to stacking, you are the lash designer.
Essentially with double stacked eyelash extensions, you don't have to stick to only one style, but you can mix and match for the perfect combination of volume and definition.
How do you fix overlapping eyelashes?
Apply a lash primer or some clear mascara to the wonky hairs, coaxing them back in the right direction as much as possible.
Then curl them using a mini lash curler–these are about 1/3 the width of regular curlers and are designed specifically to clamp those stubborn and hard-to-reach corner lashes.
Can you double strip lashes?
Luckily, applying stacked lashes is just like applying regular ones. Apply a thin line of adhesive to the lash band and wait at least 30 seconds or until the glue becomes tacky. Then carefully set the stacked lashes on your natural lash line.
What is the best lash to do double stacked eyelash extensions?
Mink eyelash extensions: Mink lashes are just about the most realistic you can get because they're made from actual hair. You can layer them up for maximum volume and length without looking like you're wearing a set of falsies.
Faux mink eyelash extensions: As you may imagine, faux mink lash extensions are extremely natural-looking, fairly thin, last a long time, and can help give you a nice fullness without making it look like you're wearing extensions.
Sable eyelash extensions: Sable extensions are actually the thinnest of all. This is why they are suitable for those with particularly thin eyelashes.
Silk eyelash extensions: Silk lashes tend to be thicker than mink and sable and are typically thicker at the bottom and thinner toward the ends, helping to create a fuller-looking lash line.
Synthetic eyelash extensions: Because synthetics are thicker, fuller, and have a more uniform curve to them, they're the least natural-looking lash extensions of the bunch, which can be a good thing if you want a bold look.
Why choose double stacked eyelash extensions?
Extra pop: Lash stacking is an easy way to add more drama to any look. What you do is that you basically apply two sets of lashes to create a more dramatic look.
Customization: With double stacked eyelash extensions, you have the freedom to create something one-of-a-kind and unique.
An additional tip for some of you who are interested in taking care of their natural eyelashes after removing eyelash extensions is to check out How To Repair Eyelashes After Extensions.
Double Stacked Eyelash Extensions Video Tutorial
Products Mentioned In This Article
We Thought You Might Like