Wondering how to trim eyelashes? If you've never done it before, there's no need to panic. With just a little practice, trimming false eyelashes will become second nature. It is a simple process that is worth the results. Learning how to trim eyelashes is so easy and fast that you can pop them on in just a few minutes.
If you wear fake lashes regularly, then you'll want to find out how to trim eyelashes. This will enable you to create an eye makeup look that flatters your eye shape. As you may imagine, there is a right and a wrong way to wear your fake lashes, and trimming them is a step in the right direction to a perfectly natural look.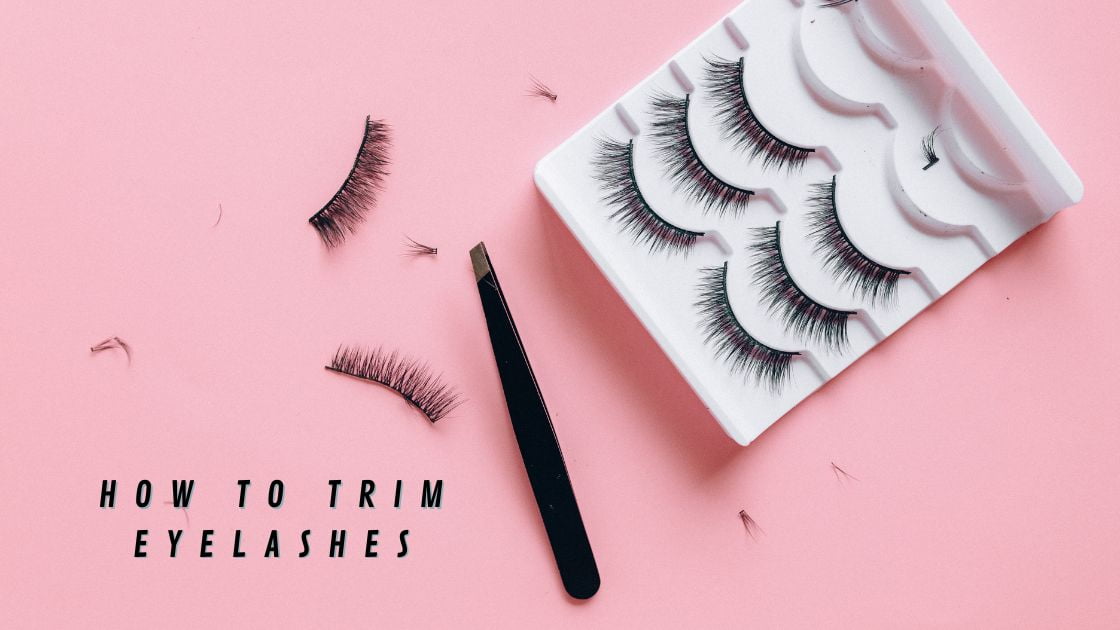 When you are dealing with lashes that are too long, this just may pose several issues, you may experience an uncomfortable feeling, or they could just look right down weird. In the worst-case scenario, you could also end up with your eye irritated. This is why trimmed eyelashes are key if you want your lashes to pop and stand out in the right way.
As you can tell by now, correcting the length of your fake lashes by trimming them is absolutely a must that will give you the best possible results. If you have no idea how to do it, we are more than happy to share everything we know on how to trim eyelashes step by step, the tools you need, and more useful tips below.
Benefits Of Trimming Eyelashes
Creates a natural look: Trimming your falsies to make the lash band match your eye shape and the lash line will make your extensions look more natural. You can also trim the lengths of your false eyelashes to shorten them to suit your desired look.
Avoids Irritation: If your fake lashes are too long, they can irritate your eyes. Trimming your extensions to fit the shape and length of your eyes can prevent your extensions from rubbing and irritating the skin surrounding your eye area.
Protects your eyes from debris: When your eyelashes are too long, the lash adhesive can gather dust and debris, irritating your eyes and causing styes. By trimming your false eyelashes, you can prevent dust from gathering on the ends of your eyelashes.
How To Trim Eyelashes Steps
Step 1: Prep your lashes
To help prepare your natural lashes, apply mascara and allow it to dry. This creates a stiffer shelf for your fake lashes to sit on.
It is also a good idea to curl your eyelashes too so that they will better match and blend in with the curve of your falsies.
We recommend L'Oreal Paris Voluminous Makeup Lash for voluptuous volume and intense length.
You can expect a full lash fringe that's feathery soft, with no flaking, smudging, and clumping; Just voluptuous volume and intense length.
With this mascara, you can create your perfect eye makeup looks, get the long, full eyelashes you love, and choose this innovative volumizing formula and variety of brushes.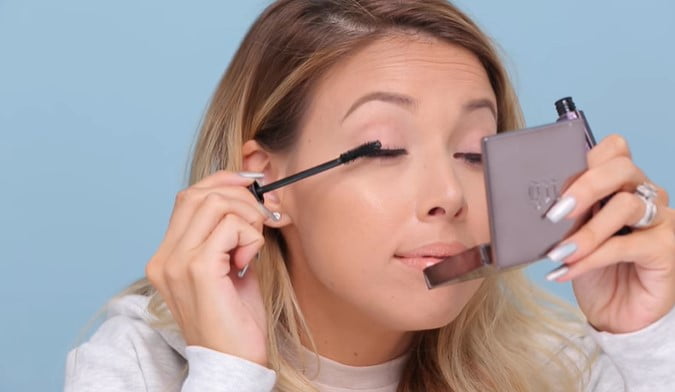 Step 2: Measure your lashes
Hold the set of lashes against your lash line and begin to position the fake eyelashes at the inner corner of your eye.
Lay the fake eyelashes against your natural lashes to measure the length of your lash line.
The end of the fake lashes should rest at the outer corner of your eye, so as you position the lash strip against your eye, move your finger to the point of the strip that extends past your eye. Hold your finger in that spot to mark where to trim.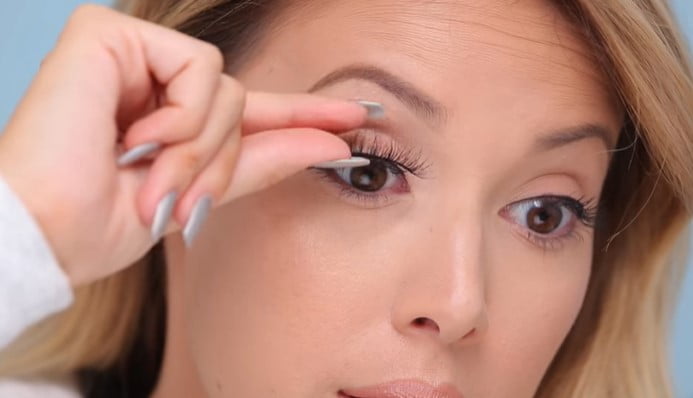 Step 3: Mark the cutting point
Use tweezers to grab the point on your eyelash strip extending past your eye's outer edge. Gently secure the lash strip between your tweezers, tightening the tweezers on the lashes to indent the spot that needs trimming.
We love using Tweezerman Exclusive Tea Rose Slant Tweezer. The stainless steel tweezer is of professional quality; its 25 Degree slanted tip is the perfect angle for working against the brow bone.
It is perfectly aligned, and hand-filed tips close evenly and firmly to remove hair from the root. Superior calibrated tension for comfort, Control, and true precision.
Clean tweezer tips after each use with an alcohol wipe or peroxide. Tweezer cannot be sanitized in an autoclave.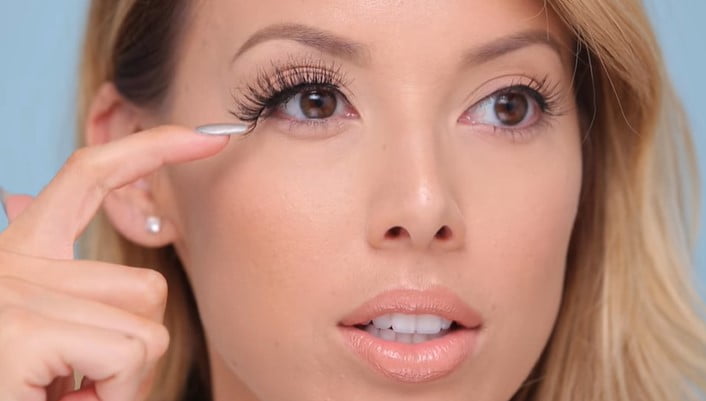 Step 4: Trim the excess
Cut your fake lashes with a pair of lash scissors. Use the point you marked with the tweezers as a guide, so the lash strip fits your natural eye shape.
Try using The BrowGal – Professional Grooming Scissors. Use these scissors to trim brows, hairs, fake lashes, etc., with ultimate precision.
Made of stainless steel with short, sharp, high-precision blades that ensure no rusting and no over-trimming, keep your brows as fierce and bold as you are.
Non-stick blade coating makes it easy to cut cleanly through materials with sticky adhesives. Ideal for cutting tight patterns and making quick snips through a wide variety of materials.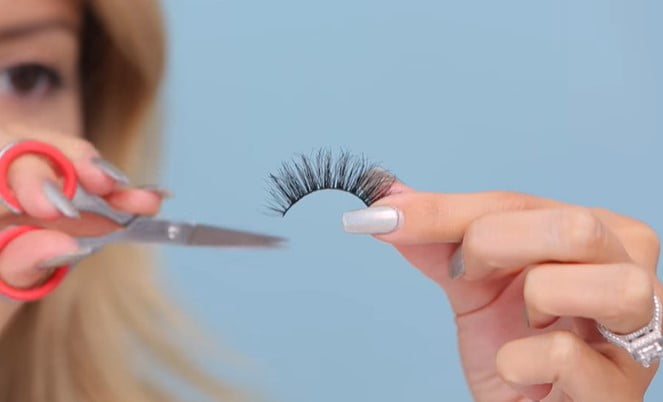 Step 5: Repeat the process
Using a new lash strip, measure, mark, and trim your other set of fake lashes, so they fit the opposite eye.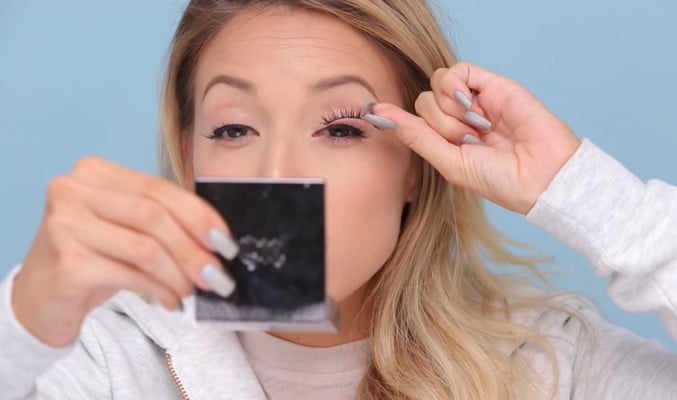 Additional Tips On How To Trim Eyelashes
Before you start, rinse your pair of tweezers to remove debris, and get small scissors to cut the lashes. You need to get your tools cleaned and disinfected to facilitate trimming your fake lashes.
The first time you wear a new set of false lashes, you may need to trim the length of the band so that it doesn't poke in at one or both corners.
When trimming your eyelashes, hold the lash up to your eye. It should fall just short of your natural eye length, so if it's longer than that, snip some off.
Experts say you should make small cuts and re-check them against your eye between each snip until you meet your ideal lash length. You can't add length back if you cut too much off.
Rather than measuring your lash strips against each other, measure and trim your fake lashes according to each eye. This ensures the lash strip fits your individual eye shapes, as your eyes may differ in size. Are you aware there are different sizes of lashes? You can find everything about that from our article regarding Lash Size Chart Guide 2022; we are certain you'll find it pretty helpful.
Common Questions About How To Trim Eyelashes
Why should you know how to trim eyelashes?
False eyelashes are a simple way to enhance the appearance of your eyes. If you are a fan of fake lashes, you'll need to learn how to trim eyelashes to create an eye makeup look that flatters your eye shape.
Are you supposed to trim your eyelashes?
Some believe that trimming your lashes a bit every eight weeks, just like you would trim your hair, will stimulate the lash follicles to grow longer, fuller, and faster. Cutting your new set of fake eyelashes will ensure that they fit your eyelids and eye shape perfectly.
Does cutting lashes help them grow?
No, cutting has no big effect on the maximum length your eyelashes will achieve. The length of your lashes is genetically determined.
What happens if you trim your eyelashes?
If luscious lashes are your goal, trimming them obviously won't help. Despite any beauty myths you may have heard, trimming eyelashes doesn't affect how thick or how fast they grow.
Lashes grow at just a fraction of a millimeter a day until they eventually fall out, and new ones grow in their place.
Do you cut lashes from the inside or outside?
Always trim from the outer end, not the inner one, to maintain the lashes' intended shape.
Experts recommend making small cuts at a time and re-checking them against your eye between each snip until you meet your ideal lash length. You can't add length back if you cut too much off.
Can you trim Classic lashes?
Absolutely yes, you can cut fake eyelashes with small lash scissors or manicure ones.
What should you use to trim eyelashes?
Experts recommend using eyebrow scissors to be precise about where you're cutting. Always trim from the outer end, not the inner one, to maintain the lashes' intended shape.
How To Trim Eyelashes Video Tutorial
Products Mentioned In This Article
We Thought You Might Like