If you are a fan of lash extensions and have an inclination for a dramatic look for your top lashes, then lower lash extensions sound like heaven! The best lower lash extensions may not be that common and are totally optional; however, if you wish to achieve something extra, lower lash extensions are definitely for you.
While most women will probably not get them, lower lash extensions actually exist and are currently a thing. The charm in fake lower lashes is that lower lash extensions can be a great way to achieve your final look if you want to match your upper lashes.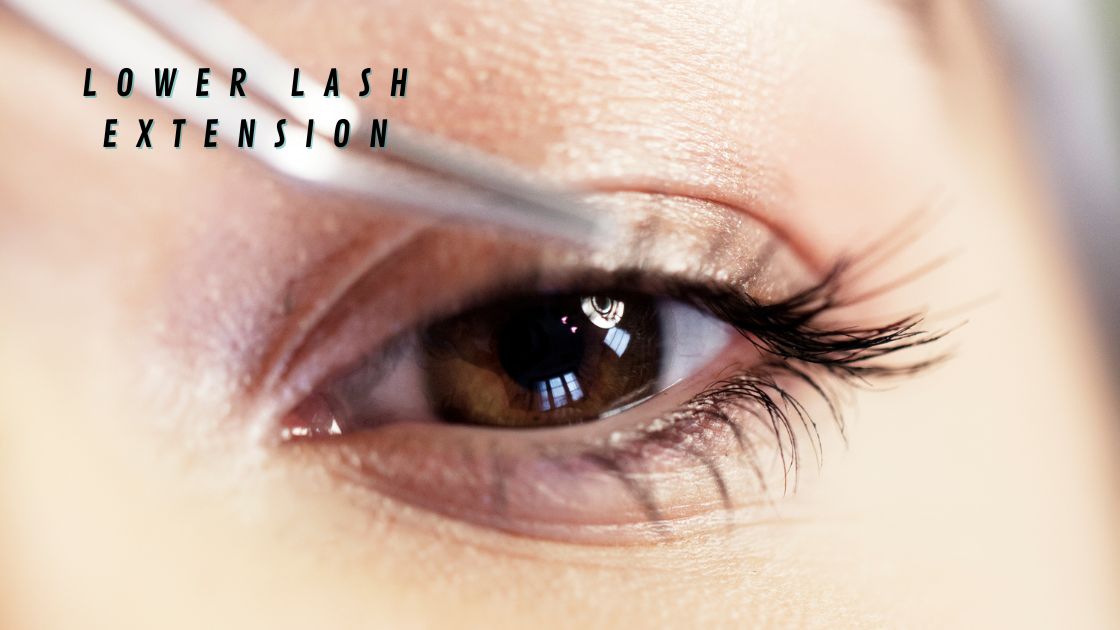 In addition to adding major oomph to your overall look, opting for lower lashes are also a fantastic idea if you want to give up on your mascara. This is because by adding bottom lashes to your lash routine, you can skip mascara and cut your makeup routine by half.
So, if you or someone you know is currently interested in how to care for bottom eyelash extensions, how you apply for bottom eyelash extensions, and the best lower lash extensions, continue reading and find out everything you need to know.
Lower Lash Extension Explained
Lower lash extensions or bottom lash extensions are exactly what you think is it. Lower lash extensions are fake lashes you get for your lower lashes. They are essentially the exact same service you get for your upper lashes, but it's for your lower ones.
This way, you get an extra boost in your look. The only difference is that bottom lashes are generally thinner and shorter than upper lashes, and so are their extensions.
Are Lower Lash Extension For You
Lower lash extensions are a good idea if:
Getting bottom eyelash extensions will give you a more balanced look if you get fairly long classic, volume, or even mega volume lashes.
Women with wide-set eyes can benefit from the longer upper and bottom extensions in the eye's middle. This will elongate the eye and give the illusion of closer-set eyes.
If you want to cut your morning makeup routine by half.
Lower lash extensions are not a good idea if:
If the lower lashes point upwards, applying the extensions will be difficult. Moreover, the extensions wouldn't look very natural.
If the lower lashes are very thin and sparse, it is better to leave them alone. Lashing in these conditions might cause damage or, at best, offer very poor retention.
How to Apply Lower Lash Extension
Step 1 Choose your lashes
Remember, you want the extension to follow the curve and growth pattern of the natural lash. Since bottom lashes are growing downwards towards the skin, the extension has to be applied that way too.
As a rule of thumb, these are the lengths, and diameters, often used for bottom lashes when doing a classic set:
Length: Between 5 mm and 7 mm. You want to extend the natural lash by 1 to 1.5 mm.
Diameter: Between 0.05 mm and 0.07 mm
Curl: B or J
Step 2 Prepping
Pull up the upper lashes, so they don't interfere with the lower ones. We like using micropore tape for this job.
Layer two strips of tape, with the adhesive parts facing each other. Leave a little bit of the sticky side on the ends, like in the picture below (the pink marking on the image is where the two pieces of tape meet with the adhesive sides facing each other).
Placing the bottom eye pad: You have to place an eye pad undeath the lash line so that the bottom lashes are exposed and laying on top of the eye pad.
Placing the top eye pad: Use a second eye pad to pull up the top lashes on the upper lid and completely expose the bottom lashes. You can tape the top eye pad so that it doesn't move.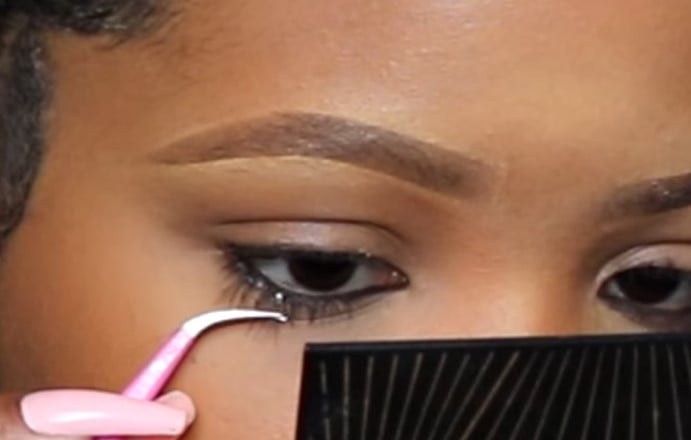 Step 3 Apply the extension
Dip the extension in adhesive and apply it as you would for the upper lashes. Make sure to respect the strength of the natural lash, and don't go too wild.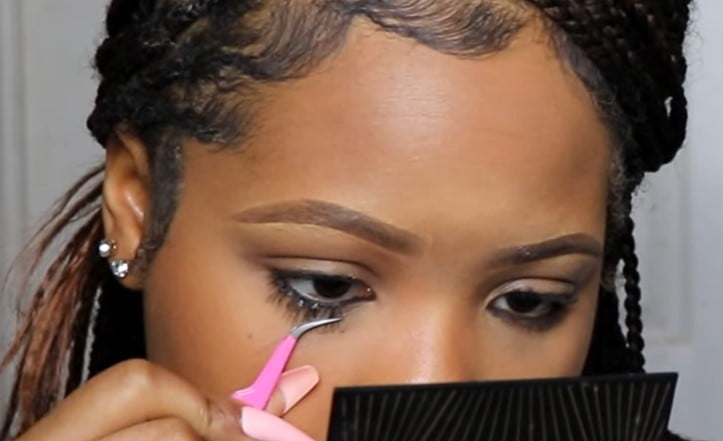 Step 4 Repeat until finish
Continue applying for the lower lash extensions. You should keep the inner corners shorter, but other than that, the world is your oyster.
Before you know it, all the extensions are in place, and you can go over them with a brush to ensure they are all pointing in the same direction.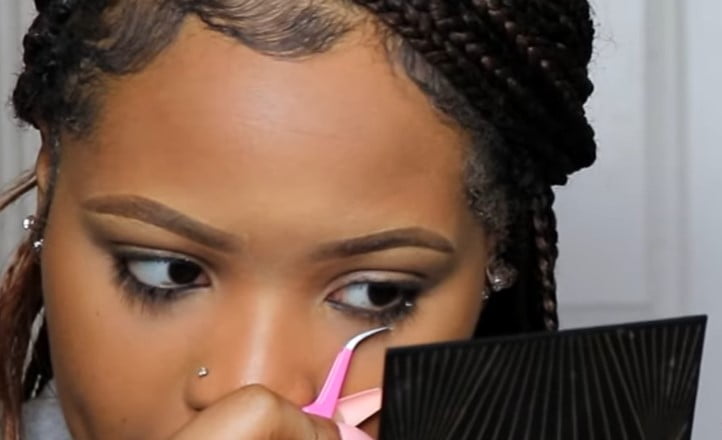 Best Lower Lash Extension
This pair of professional-quality under (bottom/lower) false eyelashes is made of 100% natural human hair. These are also reusable; you can use them anywhere from 8-12 times with proper care.
Complete your look with beautiful, easy-to-apply bottom lashes that accentuate the lower lashes and give a wide-eyed dolly effect. Bottom lashes can also be flipped and worn as ultra-short, natural-looking top lashes.
Ultra-short hairs and invisible band make this perfect candidate for the "I'm not wearing falsies" look. Measure to eye before applying and trim any excess length if necessary. Always use false eyelash adhesive to apply to the lash line.
This pair of lower lashes are made with 100% natural human hair, a single layer with light volume and a short length.
All of Zink Color false eyelashes will be comparable with big brand names, and we are bringing it to you at a fraction of the cost and with even more style to choose from.
The Zink Color false eyelashes are made with natural human hair, are soft to the touch, and offer light volume with short length. They come with an invisible band for a more natural application.
How to apply Zinkcolor Human Hair Lower False Eyelashes
Apply the false eyelashes at the last step of your makeup procedure; lightly curl the lashes with an Eyelash Curler
Use slant tweezers, pick up the False Eyelashes from the plastic case
Measure the false eyelashes to your upper lash line. If the False Eyelashes seem to be too long for your eyes, adjust the length by trimming the inner/outer corner
Then bend the lashes to curve and dot a few drops of DUO Eyelash Adhesive.
Mini-length (6mm long) individual eyelashes are the closest thing to natural lashes ever developed and are designed for easy application.
They are knotted, weightless, waterproof, and absolutely easy to apply. They're so natural you forget they're not your own, and they can be worn for up to 6 weeks at a time. Each package contains 56 easy-to-apply individual lash clusters
How to apply Ardell Individual Lashes, Flare Mini Black:
Gently remove the lash from the tray using tweezers.
Apply with strip lash adhesive for one day of wear or individual lash adhesive for up to 2 weeks of wear.
Place over the natural lash line. Apply more lashes for a desired full look.
Easy to apply, artificial wisps are just as lush as expensive salon lash extensions at a fraction of the price; attach to the underside of your natural lashes for a comfortable, more natural lash extension look.
Build and customize these 24 cruelty-free synthetic eyelash extensions that are reusable up to 3 times.
With tiny microfibers you place under your own eyelashes rather than above, the results are beautifully natural-looking lashes that are easy to apply and just as easy to remove.
How to apply KISS Falscara DIY Eyelash Extension
Check fit: Lay lash on top of your natural lash. Trim if needed.
Apply KISS adhesive to the lash band; wait 30 seconds for the adhesive to become slightly clear and tacky.
Apply lashes along the natural lash line. Hold, allowing the adhesive to dry completely.
KISS Magnetic Lashes featuring magnets on the top and bottom lash bands stay perfectly in place until you remove them. Lightweight bottom lash for super comfort; Reusable, contact lens friendly & cruel free.
Like magic, top and bottom lash magnets sandwich around your natural lashes like glue, but there's no glue needed.
This style is full-volume and evenly plush; pre-curved & universal fit; includes EZ Load Lash Applicator. If you are looking for extra volume, what about Double Stacked Eyelash Extensions?
How to apply KISS Magnetic Lash Synthetic False Eyelashes
Rotate the applicator to load the top and bottom magnetic lashes.
Rotate the applicator back to its original position.
Place the applicator, so your natural lashes are between the two magnetic ones.
To remove, use your fingers to slide magnetic strips horizontally apart to release the magnetic seal.
Common Question About Lower Lash Extension
Can you do lash extensions on lower lashes?
Yes, you can get lash extensions on your bottom lashes. The process is exactly the same as it is for putting extensions on your upper lashes.
When you go into your appointment, your technician will put tiny drops of strong adhesive on each extension and then carefully place them on your bottom lashes.
How much are bottom eyelash extensions?
Lower lash extensions cost between $50 and $100. The cost varies based on the number of lashes applied, your salon's location, and your lash artist's experience.
How long do lower lash extensions last?
With proper aftercare and lash cleansing, bottom lash extensions can last for up to 2 weeks (14 days) if the person uses an aftercare kit daily (or, at the very least, a well-formulated lash shampoo).
When users shed tears or rub their eyes, bottom lashes tend to be the ones that go first.
Can you wear mascara on the lower lash extension?
Mascara can be worn on your bottom lashes with eyelash extensions. However, make sure you use water-based mascara that will be easy to wash off.
This is because eyelash extensions are typically only applied on top lashes; applying mascara on bottom lashes is less of a concern.
How To care for lower a lash extension set?
Lower lash extensions are really not that different from upper lashes when it comes to maintenance.
Avoid rubbing your undereye area and lower the lash line to preserve the lashes for as long as possible.
Try to avoid getting the lashes wet to preserve the lashes for as long as possible.
Brush the lashes daily to avoid tangles and rearrange them how they're supposed to sit.
If you wear makeup in your undereye area, be careful when applying it (no pulling, no aggressive brush or finger movements, etc.) and especially when removing it (no rubbing, scrubbing, etc.).
Lower Lash Extension Video Tutorial
Products Mentioned In This Article
We Thought You Might Like